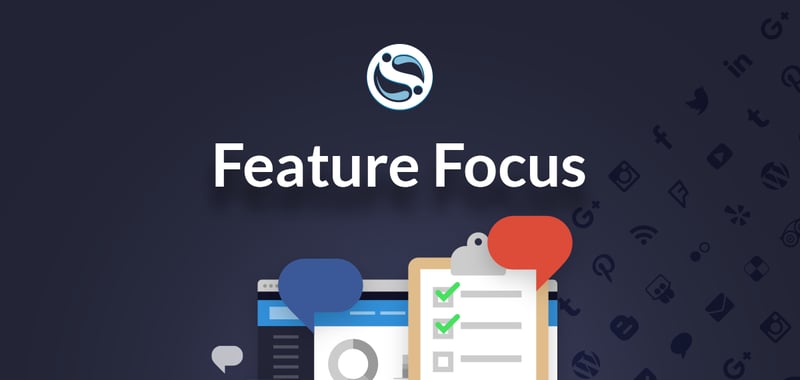 Functionality, simplicity, accessibility. The cornerstones of any social media and content management system, which we try to personify in the Sendible social media and content management experience. We always aim to bring the best possible experience to our users with our social media dashboard and aid them in their marketing efforts. So, based on feedback we've received over the past few months about what would help you reach your goals, we decided to make some exciting changes to our dashboard layout. Why? Because it should be simple and quick to access all the incredible functionality Sendible has to offer, and you should enjoy using Sendible to implement your social media and content strategy.
With this in mind, the changes all simplify your and your clients' use of Sendible and make social media management even more efficient. Already live, these value-adding changes are described below:
Changed layout of the main menu bar
This was the previous main menu bar in Sendible (looks familiar right?):

And here is the new layout, allowing for quicker, one-click access to important functions such as Content and Contacts:

Follow the yellow circles and you will find that:
'

Content

' now has its very own place in the top bar. We have moved Suggested Content and Feeds into this menu, keeping all content related functions in one place. You will also note that Content Libraries are placed here as well.

Contacts

now has its own section, whereas previously you would have to go through a two-step process. We plan to build on this in the future to provide you a fuller CRM (customer relationship management) solution.

The

Manage

option has been removed from the main menu to keep the main menu focused on social media marketing activities.

The

'Service Lists'

have moved from the 'Manage' section to

'Services',

making sure that all your service functions sit in one place. There is also a design change to this section (keep reading!).
In order to make team and client management easier, we have also moved your 'Admin' submenu to a more convenient location - the cog/settings menu in the top right corner of the dashboard.
It might feel like a lot to take in, so to make all these changes a bit clearer, you can watch them in action in this short video.
Better layout for Service Lists
This view is available to all Sendible users and we are sure you will love this! We developed a brand new look for our 'Lists' page and it now features colour coding and advanced filtering. Basically, you can now create, edit and navigate lists quicker and more easily, making client or brand management a breeze.
Just for comparison purposes, let us have a look at how the page looked before:


And here is how it looks now:

Another great thing about the change is that the number of services for each list can be seen on the bottom left corner instead of stretching out all the way onto the right hand of the screen. Pretty neat, right? The space on the right can now be used to filter through services, giving quicker access to the particular services when you need them.
Delete message button - another time saver
If you want to delete a message you are composing, you have to go to all the way back to the List view. Then you select the draft and delete it. We felt it was a bit of a journey to take in order to delete something you realised you did not want to publish, so we added the trash can button to the Compose Box. Enjoy!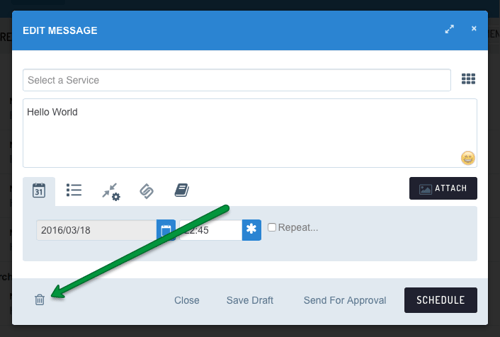 Well, that's it for this week's Feature Focus. Hope you enjoy the changes and remember, all of these have already been released and are available for you to test out.
Let us know your thoughts in the comments below or reach out to us on Twitter, by tagging @sendible !