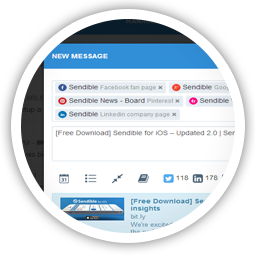 You know you need to do something about your business' social media and online marketing strategy, but you're not sure where to start, so obviously you Google "social media management" and get overwhelmed with results. You're no software genius, so you first opt for an agency to take it, make it, and let you know the results. Soon you realize that they don't know that much more than you do about online marketing, which is a scary thought. So you revisit your search and turn left at the software aisle this time. You're likely greeted with some brand of fowl or vegetable, and there are plenty of each to choose from.
You've heard of Hootsuite and know they've been around for a while, so you sign up. Other big companies use them, good enough for you. And this, my friends, is exactly how McDonald's sells more hamburgers than anyone else in the world - convenience and functionality with little depth of quality. Which is certainly not to say that Hootsuite, or other competitors, are without quality. They all have fine or decent products for what they do, which is basic social media marketing in some fashion. If we at Sendible only focused on that same singular piece of online marketing, we still believe our dashboard is superior to our competitors. The fact that our product expands well beyond the boundaries of those competitors and maintains its integrity and performance is a testament to that belief.
One Dashboard to Rule Them All
Forgive the reference, I couldn't help myself. But that's kind of the way I would describe Sendible's dashboard. First of all, when you compare apples to apples we still have quite the edge. Our social media management software is second to none and encompasses the entire spectrum of social media marketing management - posting, monitoring, sentiment analysis, auto-following and auto-responding, in-depth and detailed analytics, and more. The depth of integration it offers is astounding, down to tracking the reach and sentiment of an individual post or geo-targeting / language-targeting posts. If a site's API allows for it, we do our best to include it.
You Requested, We Listened. Toggle Service Selector now in #Sendible360. #QuickCompose #SocialMedia #EveryClickCounts http://t.co/exg6zaZCUF

— Sendible (@Sendible) September 9, 2014
Sendible's cross-posting and 360 degree monitoring capabilities are as advanced as they come, with unlimited scheduling, smart queues, our chrome extension and mobile app, automatic url-shortening and tracking, and many more, you will have access to almost any and every aspect of your social media profiles, streams, and pages. You can even "white label" your dashboard and replace Sendible with the name of your own company, to present a more professional image or to use it as your own agency's tool.
When it comes to reporting and analysis, it's not a sidebar - it's the endgame. Our basic reporting includes plenty of vital information to keep a good eye on your analytics, but if you want to dig deeper we've got you covered. We have over 70 pre-programmed reports on Facebook alone that you can access, or you can have us create a report to your specifications. Hootsuite has reporting as well, but it is the most confusing and expensive part of their system.
Sendible's admin features allow teams a tightly knit messaging, collaboration, and workflow system. Each user can access whatever features you allow them, assignments can be distributed and tracked, and complete and searchable records are kept of every conversation through the system. Tasks, notes, and messages can all be assigned, and posts can be sent through an approval process. Making the process simpler and more powerful is what we designed Sendible to do, and we took that into account with your teams as well.
Beyond Social Media
Social media management is certainly a business necessity today, but that doesn't mean that other forms of digital marketing should be discarded or overlooked. The last I checked, email newsletter campaigns were still the most successful form of digital marketing. What about blogs, or texting? Remember RSS? Sendible handles tracking and campaigns for all sorts of online activity outside of social media.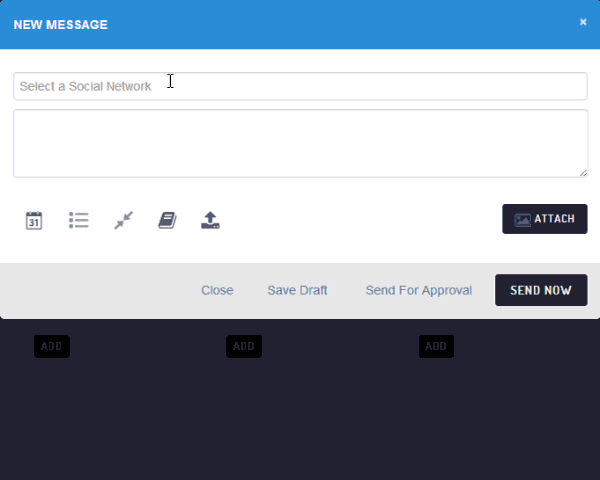 You can create, disribute, track, and even upload html for your email campaigns with Sendible. You can also manage sms campaigns, set up auto-responses for emails, texts, tweets, comments, or whatever, post to your blog, group your services and contacts into lists, automatically distribute RSS content, and use and track most popular bookmarking sites like Delicious. Sendible monitors about 70 major social, travel, and review sites for any mentions of your brand or keywords, to make sure you can always know what's being said about you and give you opportunities for customer outreach.
And it does all of this from one little dashboard. Before you sign up for service with another company just because you saw their name somewhere, give Sendible a try for 30 days on us. If you're already using some bird of another feather, compare us for 30 days - on the house. I think you'll find that there are more tools available to you than you realized, without having to tighten your budget.