We here at Sendible are elated to be included in the Facebook Marketing Partner Program.
As Facebook explains on their partner site, "Facebook Marketing Partners are painstakingly vetted by Facebook not only for capability and expertise, but also for a solid track record of success". Only once Facebook recognizes that a particular platform holds the highest standard for functionality and performance, can software (like Sendible) earn the Facebook Marketing Partner badge.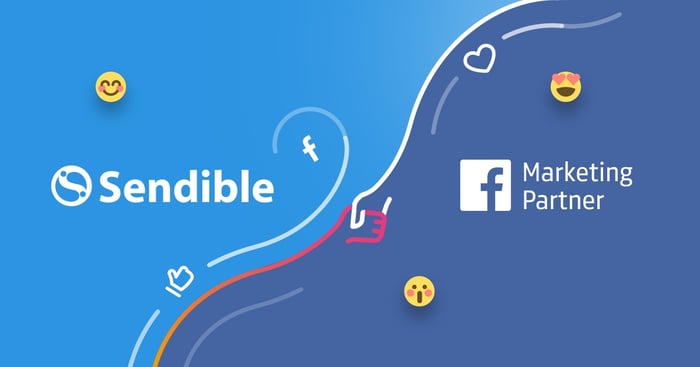 Sendible has come a long way since we first discovered the much-publicized flaw in Facebook's API that impacted big brands such as Google, Coca-Cola and YouTube back in 2010. We worked closely with Facebook back then to help patch their platform, and we work even more closely with them now to support the thousands of brands who use Sendible every day to streamline the management of their Facebook Pages.
The team at Sendible has worked hard over the past few years to produce a world-class Facebook marketing solution and we're honored to be recognized for our achievements. Although this news is great for us, it's even better for you and the thousands of other users who already benefit from managing Facebook Pages more efficiently with our social media management tool.
Facebook Marketing Partners are painstakingly vetted by Facebook not only for capability and expertise, but also for a solid track record of success.
As a Facebook Marketing Partner, we're now even better positioned to offer you more powerful and user-friendly solutions to ensure the successful execution of your Facebook marketing strategy. Plus, we have also been recognized as Instagram Partners for our community management and data insight solutions we provide for our users.
In case you're new to the Sendible platform, here are just a few of the Facebook publishing, scheduling, engagement and reporting features we offer to our awesome customers.
Facebook publishing & scheduling
Sendible is designed to scale with you and makes it simple to manage multiple Facebook Pages at once. Simply connect your Facebook Pages and groups for multiple brands and use our sophisticated Compose Box to publish various types of content including:
Photos
Links
Videos
Cover Photos
Albums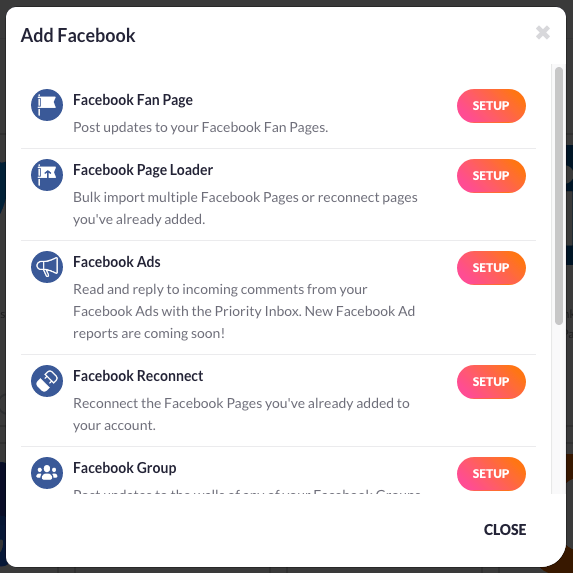 With so many scheduling options available, you can be specific about when your content is published. You can choose to post:
Immediately
At a scheduled time
Through a queue
To your content library (for storing evergreen content)
Through an approval process
In bulk (with our CSV importer)
You can access these powerful scheduling features from within our Web application, via our iOS or Android app and through our Chrome Extension. You can even build your own social media applications on top of our platform with our extensive developer API.
In June 2018, we reintroduced editing link preview metadata to the Compose Box. This feature is available to all Facebook Business Pages who have verified and linked their domain.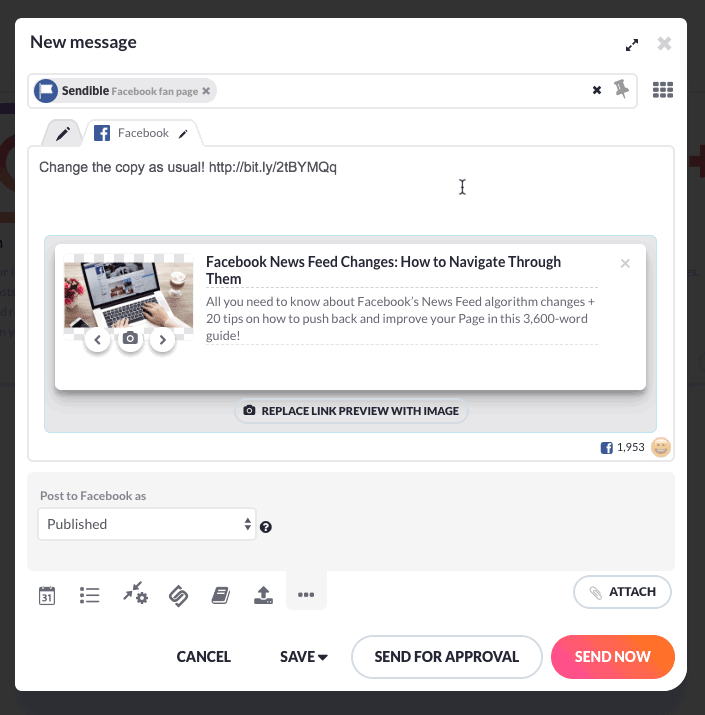 You can also now tag Facebook Pages when scheduling your posts which can massively contribute to your organic reach. One of our users had this to say about Sendible's Facebook scheduling features:
It is really easy to schedule posts to my multiple groups and Pages on Facebook. Even with images! I host a new group at least every month and Sendible helps to simplify my life by not having to sign on every day to post something. I sit down once and schedule the whole week ahead. - Kacey, Social Media Marketer
Monitoring engagement on Facebook & responding to ad comments
There are huge productivity gains to be had when planning your Facebook posts ahead, but what about engaging with your followers?
Due to the recent Cambridge Analytica scandal, a lot of the features that allowed third-party tools (like Sendible) monitor the activity of personal profiles were discontinued or largely restricted. Some features, we were able to bring back (e.g., editing the link previews), and some, have been removed (e.g., reading and responding to Direct Messages).
It's not all doom and gloom, however. We have recently introduced the ability to schedule Facebook Dark Posts (also known as a type of Facebook Ads), plus the ability to read and respond to Facebook Ad comments from the Sendible dashboard.
When it comes to managing your social media, we believe there's a better alternative to continuously jumping between multiple accounts on Facebook, Twitter, Instagram, LinkedIn and others just to keep tabs on what's happening within your communities.
That's why, we've developed a social media Priority Inbox that allows you to prioritize your time by capturing and filtering all the messages, comments and posts you receive on your Pages that require a response.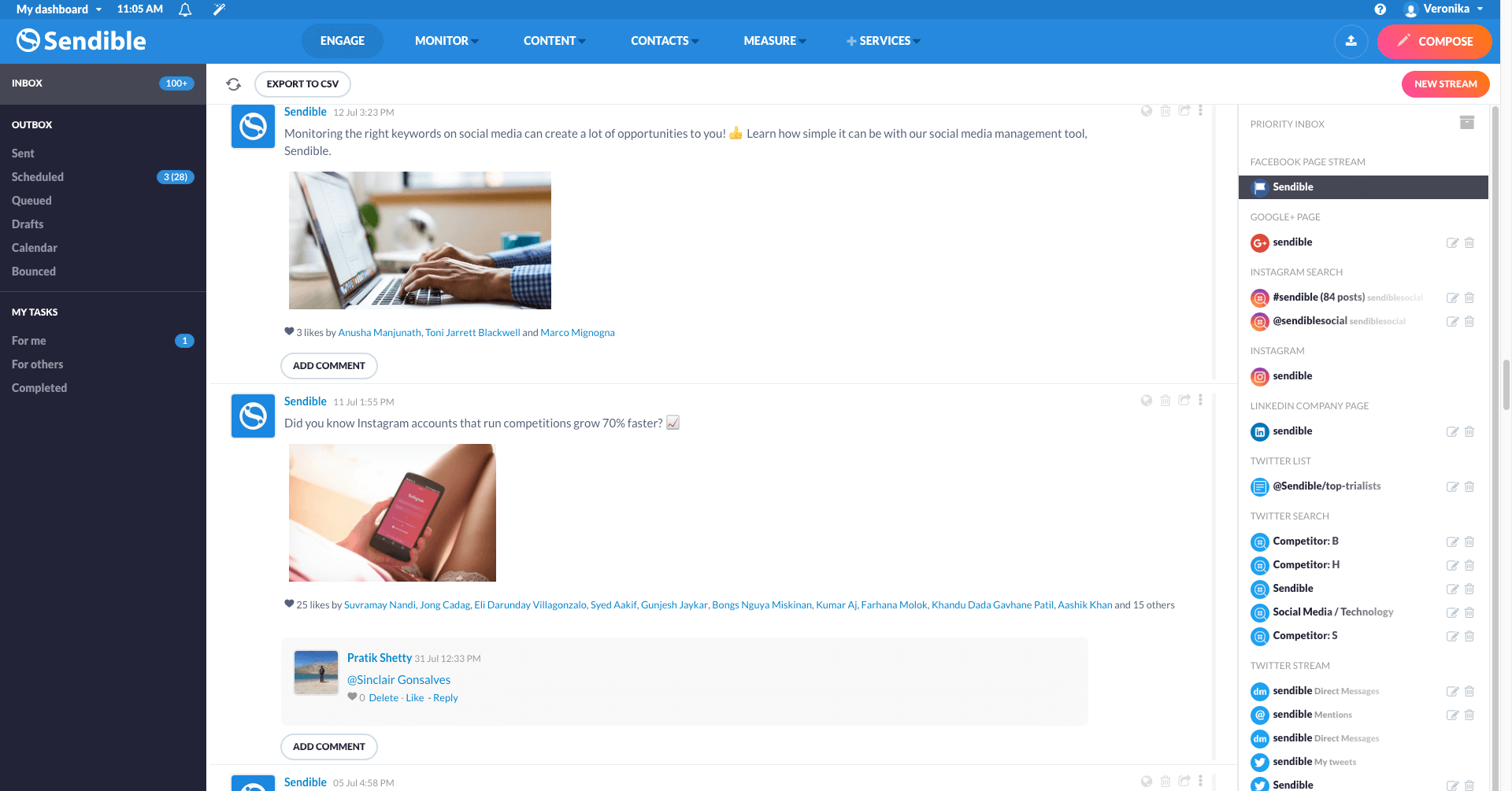 Besides giving you a single, easily digestible feed with just the important stuff, our Priority Inbox makes it easy to:
Assign incoming messages, comments and posts to other teams and co-workers
Spot negative comments with our automatic sentiment analyzer
Archive old messages and posts you don't want to see any longer
For Facebook Pages, we show your most recent posts, engagement metrics (likes and shares), and the comments each post receives so you can respond to them without leaving Sendible.
You can also use Sendible's Facebook Page Moderator tool to automatically remove comments and posts from Facebook fans that contain specific phrases and keywords.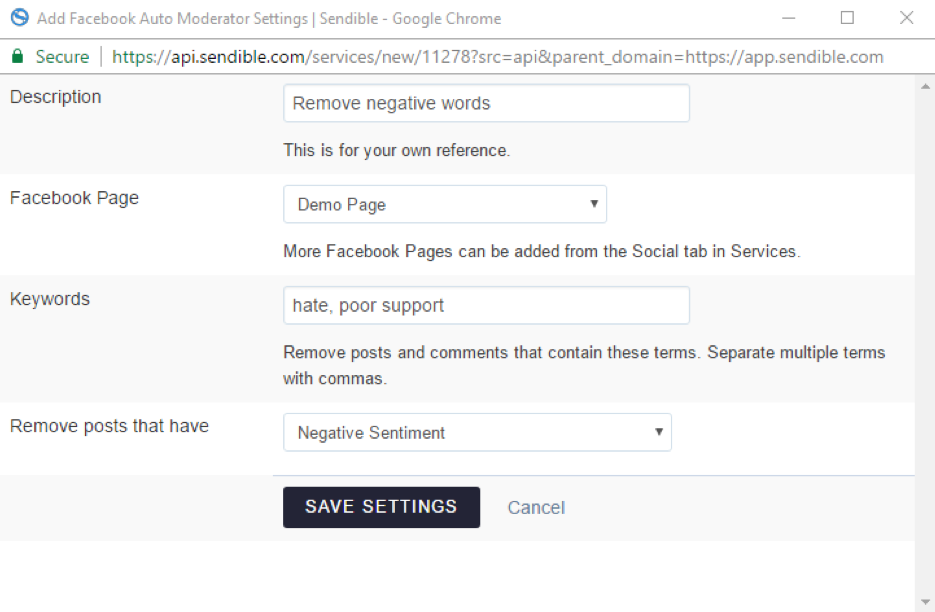 Facebook reporting & insights
Our pre-designed Facebook reports provide you with insightful, actionable data to help you understand where to focus your efforts on your Facebook Page. Not only can you access our beautiful new reports in real-time from within the web app, but you can have a daily, weekly or monthly downloadable version automatically emailed to you or your clients as PDF.
Our agency customers in particular love being able to share these social social media analytics with clients to demonstrate the results they have generated on Facebook. You can download a sample Facebook report here.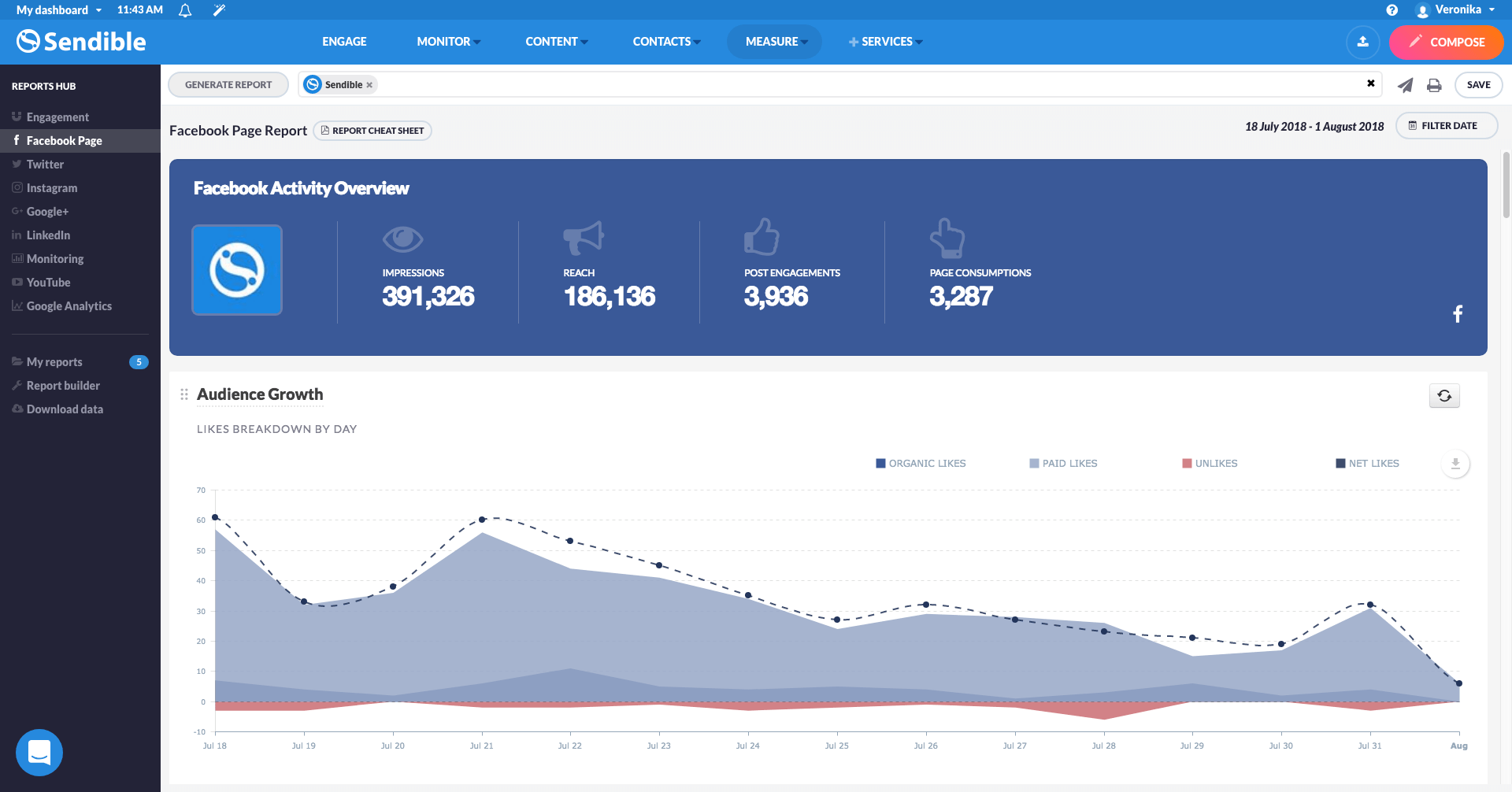 Our agency customers in particular love being able to share these insights with clients to demonstrate the results they have generated on Facebook.
As can be seen from the vast array of powerful features available to you, Sendible has been justifiably welcomed as a Facebook Marketing Partner for its excellence in community management, specifically in its power as a social media management tool that is built to enhance the way you manage Pages on Facebook and measure results. But, don't just take Facebook's word for it, our customers love Sendible too.
By utilizing a solution that has been awarded Facebook Marketing Partnership status like Sendible, you'll be working with world-class social media management software that has been recognized by Facebook for having the ability to supercharge your business Page activity while helping to make you and your team more productive.
Give our tool a spin completely free for 30 days - start a trial today.