It's been reported from numerous sources that Facebook will remove attribution from page posts that are made through third-party applications like Sendible.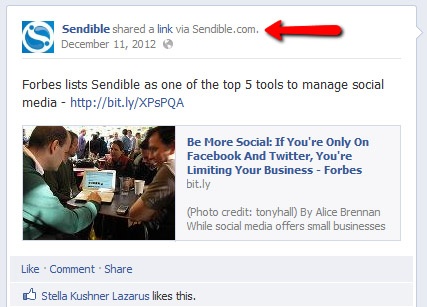 In the past these attribution on page posts would appear in the news feed and on pages' Timelines with a "via [app name]" link (As shown above). This type of branding will be removed for page posts however user posts will still include the "via" links.
Social media experts have debated about whether posting via third party app has a negative effect on News Feed distribution and page engagement. Facebook states it does not penalize pages that make posts from third-party publishing tools, but it's unclear whether the fact that attribution links show users where the post is coming from has a negative effect on how users respond to it. Critics say the knowledge that the user is not present (i.e. posting via a third party) may affect the likelihood of someone engaging with that post.
Some page managers have chosen not to use these tools as a result despite their benefits in time management and engagement with an audience. With Facebook now removing attribution branding to page posts the door is now open to those wary of third party publishing tools.
Sendible's Social Media Management Dashboard still provides you the unique ability to change the branding of this attribution to reflect your organization on Twitter and Google+ and you will see improved performance of your Facebook posts as your will gain your own Facebook app, we've found that attribution branding still appears on Facebook with Mobile devices. This feature may give an unique appeal to your posts, driving traffic to your website whilst also helping with SEO. To add simply click the 'Extras & Add-ons' button on the top right of your dashboard.