Facebook introduced Graph search this week. Some commentators are citing this as a possible advancement on Google's turf. Charles Arthur of the Guardian cites 'The more you pick at it, though, the more it feels that these two companies are on a collision course. A very slow, gradual one, but collision nonetheless.'
This new feature has be disregard for not being innovative enough, online bloggers almost immediately declared it to be a flop. Investors agreed, driving the stock down almost 3%. But they may be wrong, this new product lets Facebook users search in real time for information based on its association with other people, making those Facebook likes of business pages ever more valuable to harness the association of opinion leaders amongst peers groups.
Zuckerberg has described this as being the third pillar of Facebook the other two being 'Newsfeed' and 'Timeline'. Graph Search is centered on finding four types of things: People, Photos, Places and Interests. Users are able to search their friends based on the information they have given Facebook permission to publish. For example, users will be able to quickly find "Restaurants liked by friends in New York" or "photos of my friends taken in London, England"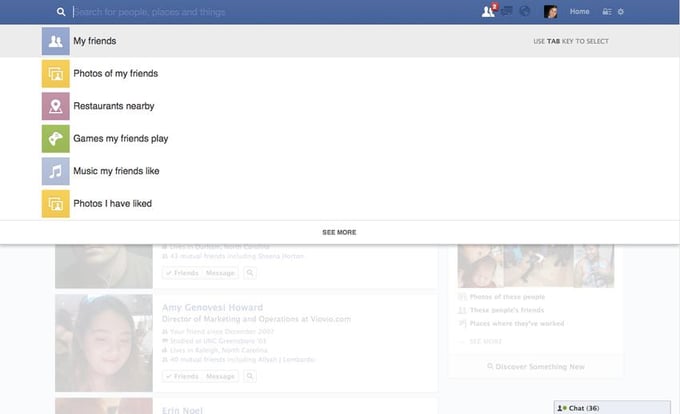 Regardless of its uses more and more people are potentially searching your brand Facebook. This makes it ever more prevalent to be visible online and encourage your customers to like your business page and learn the new art of 'GSO - Graph Search Optimisation'. Managing your community and nurturing your growth is where tools like Sendible's Social Media Management Dashboard can help ease the burden.
For your chance to be one of the few lucky early adopters, you can sign up for a beta invite here. Otherwise, you'll have to be patient and wait for a release like everyone else.
What are your opinions of Graph Search? Comment down below.