If you're an online business and still don't have a blog, we urge you to start one today. Quality content is the core of any successful marketing strategy and a blog allows you to broadcast great resources for your audience.
Sharing news, entertainment and relevant resources can build trust and engagement through content marketing. You will need a separate blog on your website for this. Varying your posts with infographics and whitepapers is great for Search Engine Optimization. It attracts attention in the form of clicks on links, social shares and referral traffic. A wide range of content can cover the most popular search terms that will draw in interested readers from Google.
Sendible, social media management platform, is integrated with blogs, allowing users to generate quality posts within a few clicks. The platform also provides features designed to carry out the different steps involved in a content strategy. This article will demonstrate how easy it is to publish great content on your blog and will show you how to use Sendible to see through your strategy, all from one place.
Once you have logged in to your Sendible account:
1. Select the Services option at the top of any page. Wordpress, Blogger and Blogspot options will be listed on the Most Popular page. If you're looking to add one of these, select the relevant Add option. For all other blogs, select the Blogs option to the left of the page.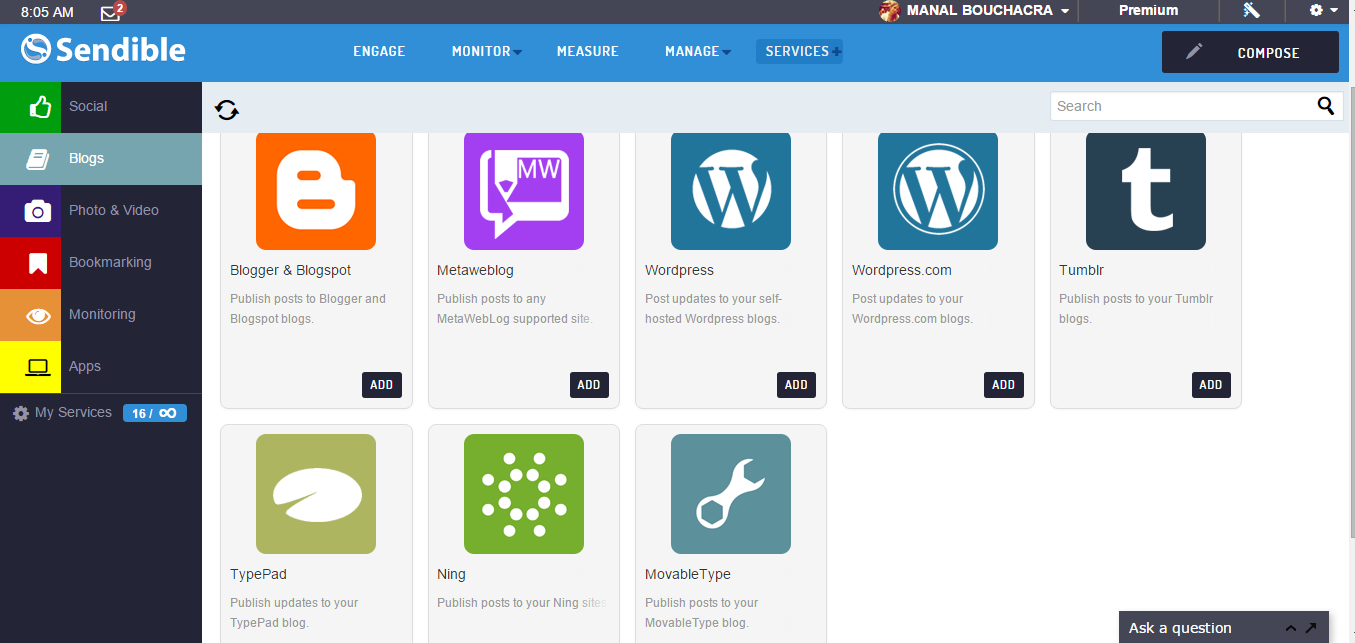 2. Starting off with Wordpress, after selecting the Add button where Wordpress is listed, the following pop up will appear.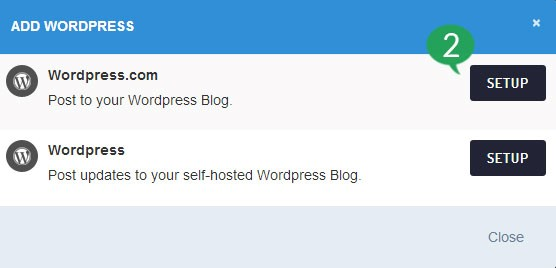 3. On the following page, you'll first need to provide the URL for your blog as shown in the example provided.
4. Then you'll need to provide your Administrator email address and password. Once you've done that, you can adjust the other settings as required and then select the Save Settings button. Once complete, your blog will be available to post to in the Compose Box.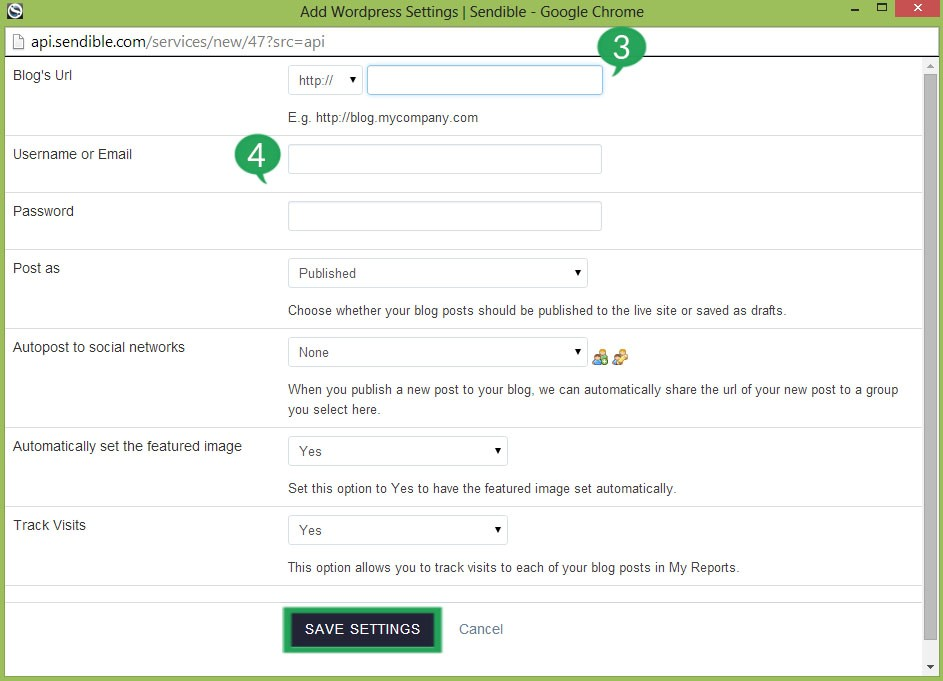 Once you have your blog in place, you need to start thinking about your strategy- Sendible is also a part of this process. Brainstorming a solid plan behind your content will shower your posts with more engagements. The first thing to do is understand what the needs of your audience are. Sendible's monitoring tools allow you to track keywords that will find and group relevant thoughts together, as these can influence your next blog topic.
Use Sendible to find out what's trending on Facebook and Twitter to discover the topics you should be writing about. Once you understand what your audience is looking for, then you can write posts around their interests. The next step is to fill up your calendar with carefully chosen content on each day and at optimal times.
While you're in your Sendible account click, on 'Engage' and 'Calendar' to launch the feature.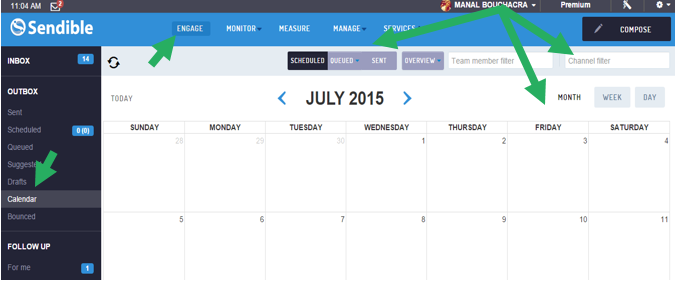 Sendible's calendar is a bird's eye view of all the content activities taking place. You can filter to find out what an individual team member has scheduled for the day, week or month. Alternatively, you can check how much content is going through one specific social media channel.
You can view three types of content from here: the posts that have already been checked and 'scheduled', the posts that still need reviewing under 'Queued' and the messages that have already been published under 'Sent'. By looking at the calendar, you are always aware of where different pieces of content lie in the publishing funnel.
Once you have all the content perfectly organised you will need to start showing it off. Where to do this better than on social media? Here you can reach a wide range of audience on different networks and through different mediums such as mobile. Use Sendible to schedule content simultaneously to several channels.
The Compose message option will be available in the top right hand side of the Dashboard no matter which page you're on for easy access.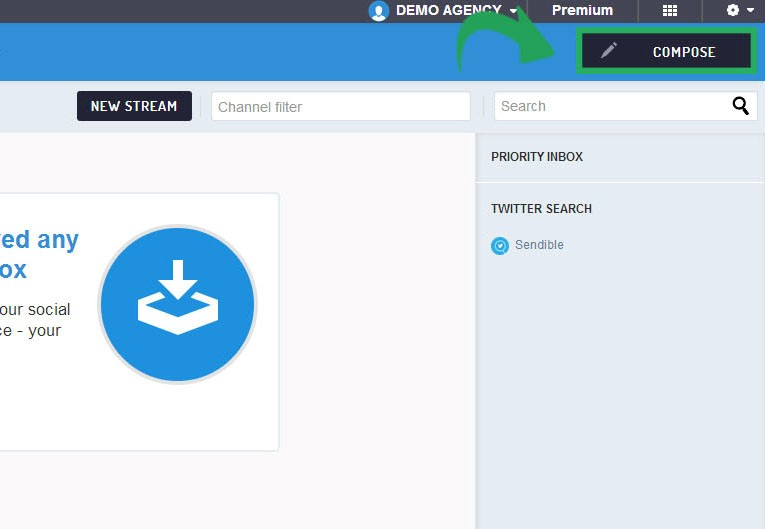 1. Once you've added all the content, etc. to your message, click the schedule icon to access the scheduling options.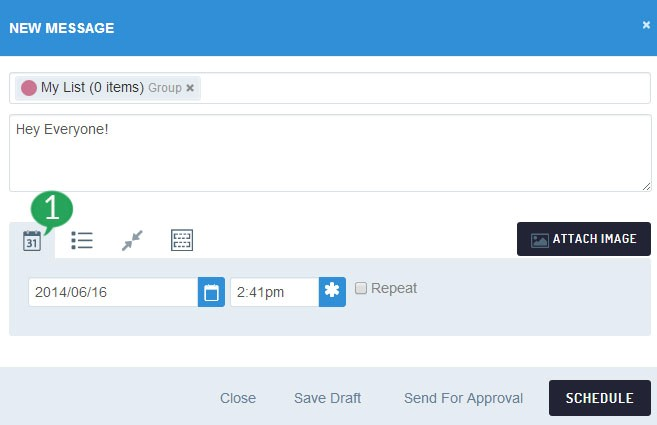 2. Click on the date box to access the calendar.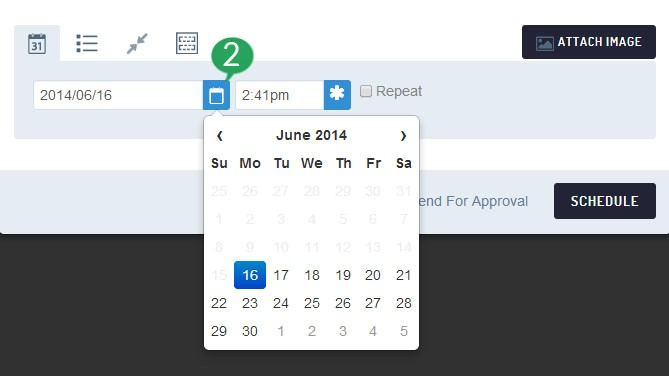 3. Once you've selected the date you want your post to be sent on, click on the time box to set a specific time or choose from the times available in the drop down menu.
4. Alternatively, you can select the optimum times to send your message by selecting the asterix (*) icon. (Please note that optimum times will only be available once you have been posting from your account for some time)
5. You can also schedule your post to repeat by selecting the Repeat option.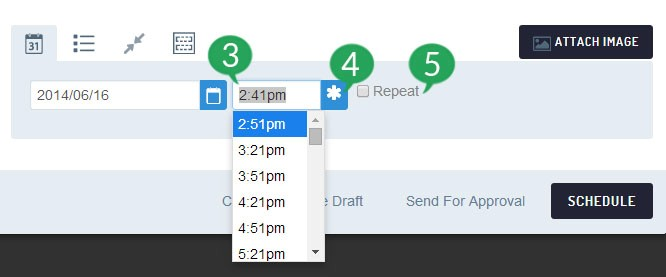 6. If you select the repeat option, the following dialogue box will be opened. Once you've added your settings, select 'OK'.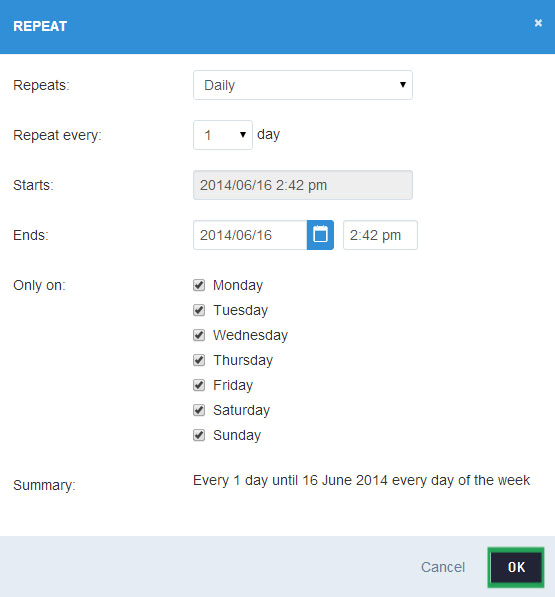 7. When you've added all your scheduling settings, click the Schedule button to schedule your message accordingly.
You've done all the planning and scheduling, it's time to look at how everyone is responding to your content. Measuring is a form of feedback to all the hard work you've put in. Watch this short clip on how to access a quick report on Sendible, showcasing all your efforts:
As you know by now, once you link your blog, it becomes a matter of understanding your audience. Sendible will help you determine the right topics to write about for optimal engagement throughout the year. Once you decide on the relevant titles, write your posts using the 'Compose' message box and start scheduling at optimal times during the week on various social media channels. Use the calendar to ensure your blog remains active on all networks and keep track of the progress of all your posts.
We'd love to hear your thoughts
Do you think this is enough for building a good content strategy? Let us know your thoughts and feel free to ask us for more tips on how to use Sendible to improve your content strategy!