We love spreading the word of Sendible as much as possible, so we try and get out and about, getting involved in as many activities as we can.
The power of networking and meeting our current users and prospects face to face is something we find a lot of value in. Our core ethos is to create the most innovative, robust social media management solution inline with our user's feedback and requirements.
Our own events and participation at third-party events vary greatly. From exhibiting at the Great British Business Show to meeting company founders at multinational corporations and hosting talks, showing how our tool can help save time and achieve growth for businesses and agencies alike.
We also had the privilege to be chosen to host an event during Social Media Week. Our event focused on Facebook Live for business, had a line-up of expert speakers with a great, participating audience and was streamed live on Facebook.
Join us at the Video Impact Summit on the 3rd February 2017. Save up to £50 on your ticket with our special promotion, this event is ideal for anyone who wants to build an online presence for their business.
Sendible events with partners
We've been involved with teaching social media best practices and strategies to businesses of all sizes at social media academies. Just recently, we supported our customer base in the U.K. and spoke at a large local event, Get Social Kent, alongside speakers from Facebook and NATO.
@SendibleLuke #techtalk #hashtag culture drive #leads engagement @GetSocialKent @SocialMediaUKRT @KentTweetups @FamilyMattersUK pic.twitter.com/1e0kT4v2Tt

— Jen Taylor (@businesstreeuk) 3 November 2016
A great example of us sharing knowledge and best practices for social media can be seen (or rather heard) in a radio interview on Tech Talk Show with our social media consultant, Chris Barnes. In this talk, he highlights good social media practices and explains the benefits of Sendible to the modern day business.
All set up for a great day @GetSocialKent - Come over our stand to have a chat about social media & how Sendible can help #GetSocialKent pic.twitter.com/oVHqvXNneF

— Sendible (@Sendible) 3 November 2016
Working with our partners has allowed us to team up and reach a wider audience in a multitude of industries. We also host regular partner webinars with a focus on key aspects of social media, specific industries and the pain points they are facing.

To top that, our partnership network gives our users (and readers) exclusive discounts on added value product and services. We're always looking for new partners to work with so if you're interested, please feel free to get in touch at mailto:hello@sendible.com?subject=Partnerships%20Request.
In the news
Our recognition in a number of leading publications has really shown our growth as a business and a leader within the social media management sector. Sendible was most noticeably recognised as a winner in Deloitte's 500 fastest growing technology companies and proclaimed by the Telegraph to be poised for global domination. We have also been praised for our focused approach, allowing for maximum efficiency when dealing with difficult tasks.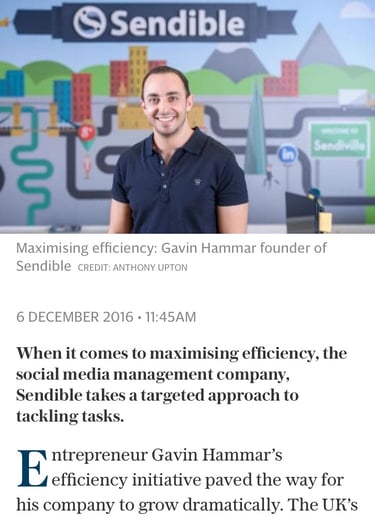 Guest blogging & outreach
Knowledge is power, therefore we have been guest blogging on sites like B2B Marketing Magazine and Social Media Today. We are also creating a large knowledge base of articles, white papers, expert interviews and have given it all home on our blog - Sendible Insights. We collaborate with a variety of thought leaders, experienced marketers and business owners via guest blogging.
2017 is set to be the year where Sendible is more on the road than ever, so watch out for us in a city near you. And if you have an event or webinar you would like us to get involved with, please feel free to contact us.