Someone famous or smart or brilliant or successful (at least much more famous, smarter, more brilliant and more successful than us!) once said that you can't know where you are going until you know where you have been. What better time to take stock than at the end of the year - to understand what we have done, where we are now, and how far we still have to go.
At Sendible, the year 2015 was a time of real growth in a number of ways. Our family of users grew (we have over 125k official Sendible customers now, managing over 1 million social network profiles!), our team of dedicated staff members grew and our product offerings grew. Let's take a quick walk down memory lane and maybe even whet your appetite for what's to come in 2016.
New faces, more energy
As proof of our growing client base and our exciting roadmap, the Sendible team grew by an incredible 40%. From Marketing to Sales to Testing to Support, we welcomed these awesome new members to the offices, to help take us to the next level:
Leanne Clements - QA Analyst
Bella Jägestedt - Developer
Stacey Berold- Kutscher - Head of Marketing
Junior Oppong - Sales Executive
Rachel Adams - Sales Executive
Verda Farakh - Customer Support Analyst
Kurt Lohmann - USA Sales Executive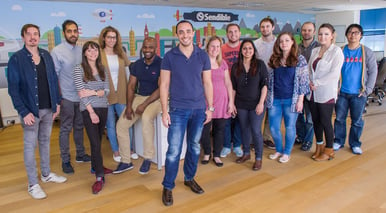 Going for global
Our users are global and our industry has no boundaries. Following this, we officially opened our dedicated US office. Our first USA Sales Executive, Kurt, who is strictly dedicated to the US market, started this year and we expect that he won't be the last.
A content explosion
Our main mission is to provide our users with a product that moves as fast and as efficiently as their needs do (marketing in the digital age can be overwhelming!). This year was no different - we brought social media #ContentMarketing to our users with innovative and useful technology updates and integrations:
We integrated Canva to expand their graphic and visual capabilities

We improved content streaming to only bring in relevant and smart content for them to share, backed by real industry influencers

We partnered with Snip.ly to let them brand their shared content

We offered SEO driven content for order, delivered right to their inbox

We were the first to find a solution to Instagram's rejection of 3rd party posters

We brought icons back into play in our composer
And loads of little improvements that helped make our users lives easier and added value, like Facebook private messages streamed into the inbox, a cleaner interface and quicker support responses.
But don't take just our word for it!
The Mail on Sunday wrote about the uptake of Sendible by Government institutions, the Evening Standard used us as a prime example of diversity in the workplace (particularly in reference to women in the sciences and technology sphere), the Daily Mail asked us about the future of digital marketing careers, and B2B Marketing turned to us to understand the complications with Instagram, and to make sense of the misinformation (and lies) out there, to name but a few. Forbes consider us the next best thing to come out of the UK, especially impressed with the way our founder and CEO Gavin Hammar started the company and overcame all the challenges thrown at him. The Telegraph claimed we are London's rival to Hootsuite, poised for global domination (and we tend to agree!).
And to end the year in style, Sendible made the #Fast500EMEA list, Deloitte's top fastest growing technology companies in EMEA.
We even went offline (!)
We took Sendible to the Great British Business Show to educate small businesses on the importance of social media in their Marketing Strategy, and how they can start generating leads through it. Our fully booked (overbooked!) training seminar was a hit, and we even managed to snag a few celebrities (Richard Woods on a break from the Apprentice) who wanted to know more about Sendible (he may not have won the Apprentice, but he did win our hearts!)
And we remembered to have fun, too
A team that works hard together also plays hard together. We have had some crazy times at the office and outside the office. Our Hoverboard hasn't blown up yet, we haven't quite managed to master bobbing for apples on Halloween but the Table Tennis tournament is getting a little bit too competitive (do you let your boss win and stroke his ego, or earn his respect by beating him?).
If you think 2015 was more than expected, we have news for you! The plan for 2016 is already underway, with new developments, improvements and technology to help you grow your business and increase your revenue.
What do you think we should look to improve or add for 2016? Let us know, it may already be in the pipeline, or you may just convince us to add it.