Sendible isn't just a business, it is also a team of passionate individuals who care as much about their community and the world around them as being great at their job.
The Sendible team regularly participates in charity events, fundraising for a good causes or raising awareness about local events.
A little bit more about us
Homegrown in London, UK with customers worldwide, Sendible primarily helps businesses to manage their social media in a simpler, more efficient way. Our software tool has helped businesses and individuals from a broad range of industries, including charities and nonprofit organizations.
Sendible Charity Events
Jeans for Genes Day
Did you know that 1 in 25 people born in the UK have a genetic disorder? We found this statistic quite staggering, so we showed our support on 22nd September by dressing up with as much denim as we could find in addition to donating money.
Jeans for Genes (United Kingdom) is a national children's charity, which raises money for the care of children and families who are affected by genetic disorders.
J.P. Morgan Corporate Challenge
One of our charity engagements in the summer was the J.P. Morgan Corporate Challenge marathon. For the second year, the UK's largest charity working with older people, Age UK, returned as the beneficiary partner of this challenge.
The event was completely sold out. In total, 14,598 runners and walkers from 414 companies made their way to the beautiful Battersea Park in London on 20th of July (with temperatures pushed over 30 degrees Celsius).
Almost a third of our team participated in this event and completed the race. The magnificent seven are Gavin, John, Herve, Rachel, Bella, Claire and Veronika. The fastest male time was by John who ran 5.6km in 29:54 while Rachel was the fastest girl with 33:30.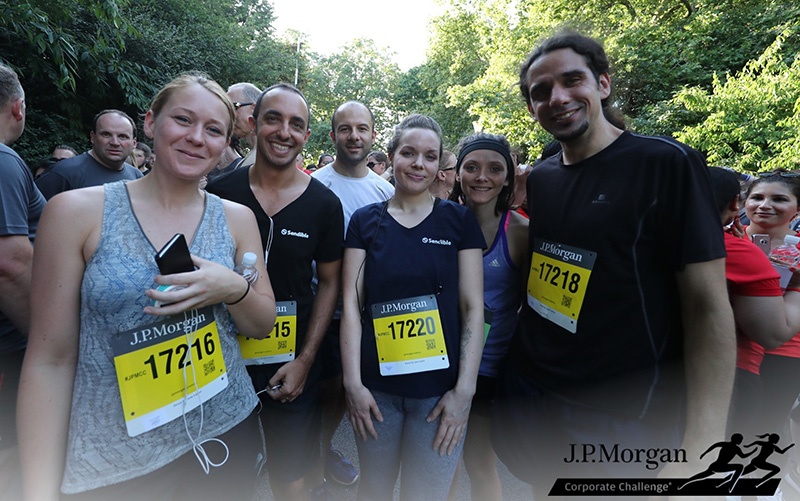 Princess Trust Foundation
When Wendy and Simon Harplee lost their little girl, Hannah, to cancer, they became determined to improve the lives of children undergoing chemotherapy by donating free wigs to them.
Bella, a developer in the Sendible Team, was thinking of shortening her haircut for the summer. When she heard about The Little Princess Trust, she was so moved that she decided to donate her hair.
Inspired by Bella's example, now Claire and Rachel have decided to donate their hair too. And the rest of the Sendible team are showing their support by donating money to the charity.
Rachel, Bella and Claire before cutting their hair
Our lovely ladies after their haircuts!
Hope you enjoyed this post! We will update it whenever we support a new charity or get involved with our community.
We value the good work charities and nonprofit organizations do and show our support through special discount rates on our social media management software.
If you work in the charitable sector we'd love to help you reach bigger audiences and make the world a better place. Please get in touch!