Compose Box tagging is back! 👊
Brilliant news! As of September 2018, tagging Facebook Pages is once again available on Sendible. We introduced Facebook tagging back in 2016, but this feature was temporarily taken away from all developers due to Facebook's efforts to tighten its rules after the Cambridge Analytica scandal.
🎉 We are glad to announce that this feature is now back, and it's better than ever! 🎉
It's easy to tag a Facebook Page on Sendible:
Open the Compose Box.
Select your Facebook Page.
Type '@' followed by the name of the Page (make sure to include spaces).
The drop-down selector will appear providing a selection of Pages or Locations to choose from.
Click on the correct name to tag the Page (repeat if you want to tag multiple Pages).
Follow the same steps when tagging profiles on Twitter or Company Pages on LinkedIn.
Does tagging work on multiple social media profiles?
The answer is: Yes! With the introduction of Smart Posts, you can now tailor your posts to each social network with Sendible. This includes tagging profiles and using the right number of relevant hashtags (for example, using more on Instagram than Twitter is standard practice).
Simply start composing your message, select the networks you'd like to schedule your post to, and start editing each tab! 👏
Tagging profiles is available for Facebook, LinkedIn, Twitter and Instagram

*.

Hashtag search volumes

are available for Twitter and Instagram.
*Tagging profiles works slightly differently on Instagram. You can still tag the right username, however, there will be no drop-down profile selector.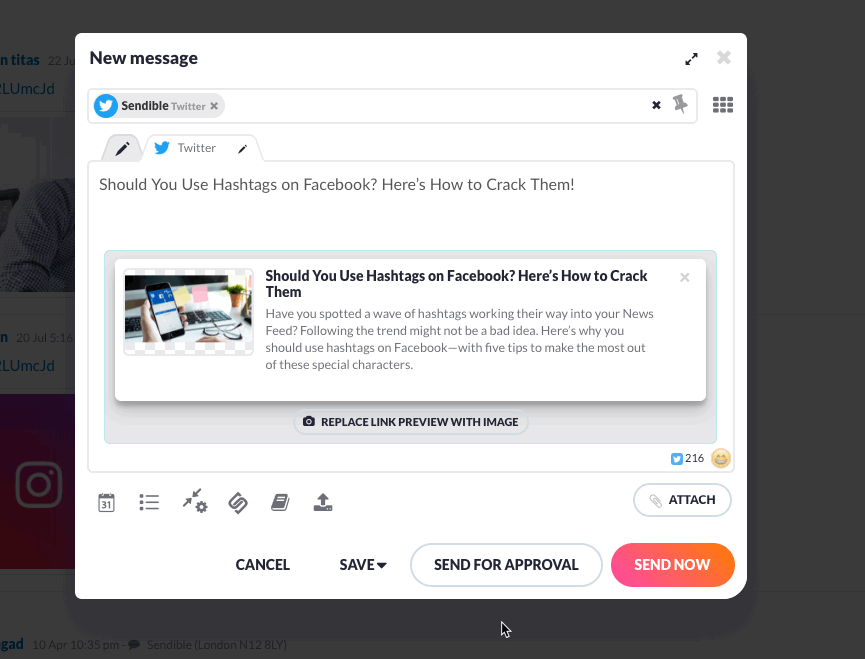 Click on the call-to-action button below to log into your Sendible account (or, if you're not a customer yet, give Sendible a try - completely free for 14 days)!
P.S. If you're looking for tips on how to improve your marketing efforts on Facebook, we'd love for you to visit our best practices blog for all things social media called Sendible Insights.
Here are a few articles that you may be interested in: