We've got some great news to start your week off - you are now able to schedule and publish Instagram Reels directly through Sendible! 🙌
Up until now, Meta has not allowed Reels to be published via third-party tools. This has meant that users on Sendible have had to use the Instagram Reminder feature to publish and schedule Reels.
With the increasing popularity of short-form videos, Reels have become a great way to attract new followers thanks to these videos being heavily featured on the Instagram Explore Tab.
Their discoverability makes it the perfect way to grow your brand and online presence. This update will help streamline your publishing process so that you are able to create more engaging video content for your audience.
Now Here: Direct Instagram Reels Publishing! 🥳
That's why we're thrilled to let you know that auto-publishing Reels to Instagram on Sendible, is here!
This update will allow you to:
⏳Save more time by automating publishing and scheduling Reels
💪Ensure that your posts are published exactly when you want them
📝Publish Instagram Reels directly from your desktop
⚡️ What you can currently do with Reels on Sendible
To schedule Reels through Sendible, all you need to do is:
Open your Compose Box and upload the video you would like to publish as a Reel.
Select 'Reel' under 'Post video as:'.
If you want the Reel to appear in your feed, make sure that 'Also share to feed' is checked.
Finally, choose a publishing time and hit Send or Schedule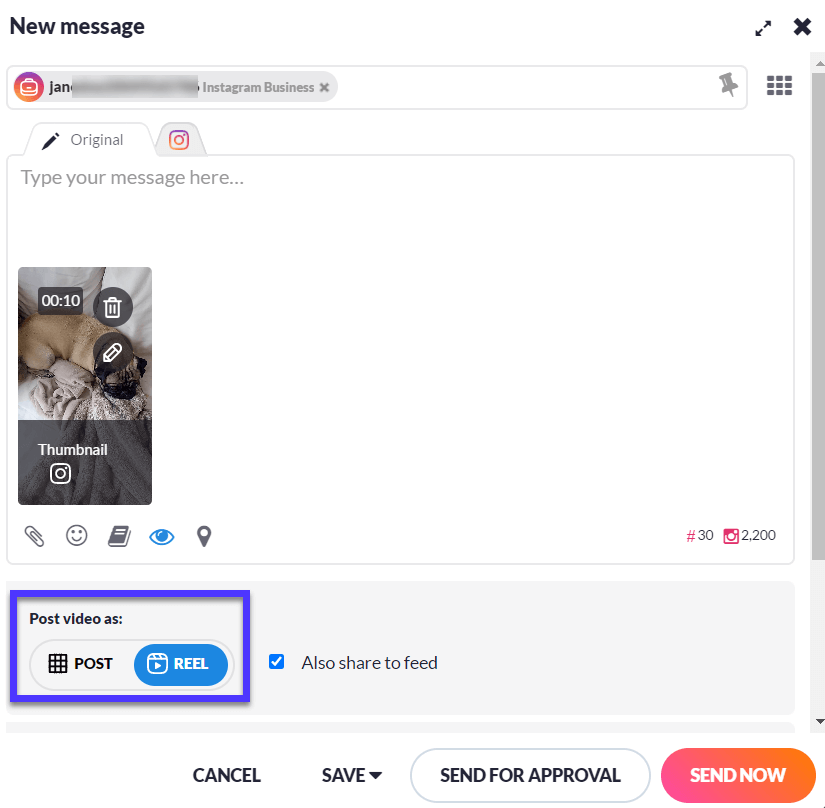 In addition to auto-posting Reels through Sendible, you now have the ability to view any incoming comments and also report on the performance of your Instagram Reels on Sendible.
💭

What you can still use the Instagram Reminder feature for

The Instagram Reminder feature should still be used for scheduling any Stories, and if you want to add any trending audio to your Reels.
🧐
Helpful resources
Here are some resources to help you get started with your Instagram strategy:
🤔 Any questions?
Our goal is to make your lives as social media marketers easier so that you can focus on creating quality content. If you have any questions please reach out to our support team here.
Or if you have any more feature requests, please head over to our Feedback Portal and let us know.
We're all ears! 👂
Want to receive a notification when our next release is live? Subscribe to our product updates: