At Sendible, we once used services for connecting to social media networks. However, this model led to confusion and frustration for many. Therefore, we have shifted to a more transparent social media profile approach.
After speaking with you, our customers and trialists, we realised that the services model we've been using has not been received as we had hoped. 😕
Our CEO & Founder, Gavin Hammar, initially hoped this model would allow customers greater flexibility in the ways that they chose to connect to social media platforms.
However, this model led to a great deal of confusion, frustration, and a false perception that we were the more expensive social media management tool on the market.
After taking your feedback into consideration, we knew shifting to a social media profile model would be the best outcome for all those using our tool and for those considering Sendible as an option for their social media management, therefore, Services are now officially Profiles! 🎉
What does this change mean for you? 👇


More value for the same plan.
Where you've previously used multiple services for streaming and posting to Facebook Pages and Twitter accounts, posting and streaming functionality are now bundled into 1 profile.

Bundled features for the whole social media management experience.
Adding 1 social profile now lets you plan, create, and schedule content, engage with your audience by replying to comments, and access reports to measure the growth of your social media networks.

Simplified setup.
By bundling our posting and streaming capabilities, you are able to save time connecting and reconnecting your accounts.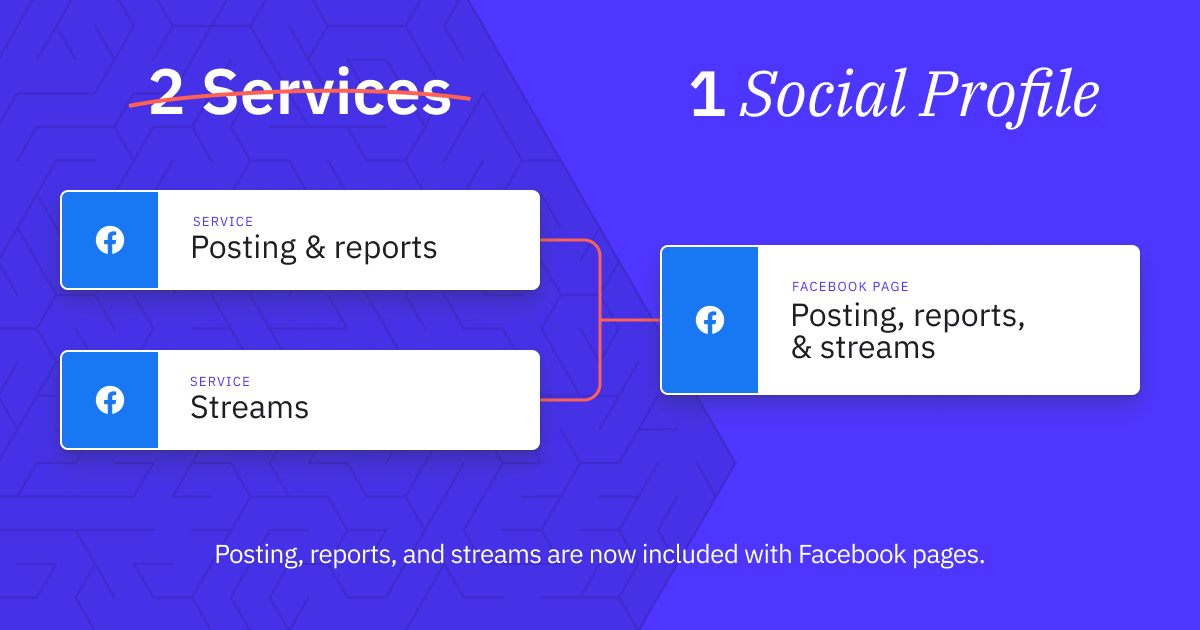 What does this change mean for your agency? 🤷‍♀️
Increased clarity on the number of profiles you have for your client setup.
No more juggling which services to add for your clients. You now have the whole package to offer each new customer you bring onto Sendible.

Additional slots for growing your client base.
Since you have more profiles available to you, you can pass on those savings to your customers as you grow or explore some of our other features like RSS auto-posting.

Keep all your social media management in one place.
Directly post to multiple networks for each client, engage with their audience, coordinate their content campaigns, and report on your ROI.
So, what has changed? 🤔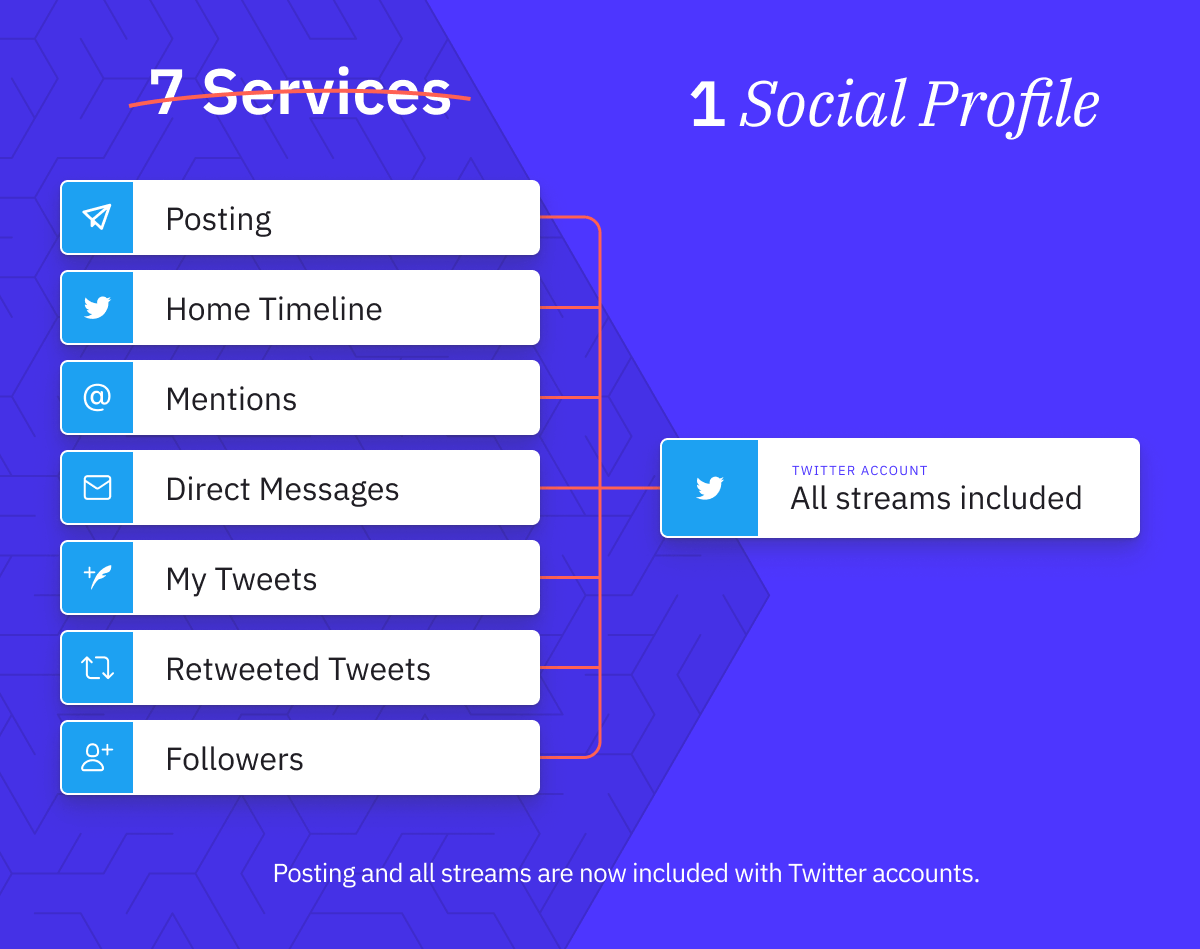 'Services' will now be called 'Profiles'.
In addition to streaming services being bundled together with posting services for Facebook Pages and Twitter accounts, you'll be seeing a name change from 'Services' to 'Profiles' in your dashboard. Note that the allocation of your profiles will remain the same. For example, if you were on a Traction plan with an allowance of 48 services, you will now have 48 profiles available on your account.

Access to posting and engagement functionalities for each profile.
While posting and managing comment streams were traditionally counted separately, you will now only have to connect one social network profile to have access to most functionalities (posting, comment streams and replies, and quick reports). This will be applied to both Facebook and Twitter, and is currently already available for Instagram Business Profiles and LinkedIn Company Profiles.

New categories to explore in the 'Profiles' view when adding accounts.
When you go to add a new profile in-app, you will now see four category options:

Social (Facebook, Twitter, etc.)
Blog (WordPress)
Monitoring (Twitter Search, etc.)
Apps (Facebook bulk connections and reconnections, etc.)


UI change: Real-time comment streams now have a separate location.
Streams are now separated out from the Priority Inbox. This makes it easier to differentiate between seeing the overview of all engagement on your social media (Priority Inbox) which is slightly delayed versus real-time comments for each profile added (Streams). Also, the Stream column that was once on the right-hand side of the tool, has now been moved to the left-hand side.

Streams within the mobile app.
While the new profile model extends to the mobile app, you can only view the Home feed stream for Facebook and Twitter in the app. This is unlike the desktop view, where you can switch between direct messages, mentions, retweets, etc. We will be working on bringing the additional streams to the mobile app in the near future.

Facebook Album & Cover Photo services
As part of these changes, we will also be removing the Facebook Page Album and Facebook Page Cover Photo services as they were used infrequently, if at all, by our customers. Facebook is likely to stop supporting these options in the near future as well.
What about other features like Sendible's RSS auto-poster and keyword monitoring? 🔍
The following features will not be impacted by our switch to profiles:
If you'd like to set up an RSS auto-poster (which allows you to automatically draft or share content from RSS feeds), each RSS feed you add will count as 1 profile.

If you'd like to add your WordPress blog to Sendible, each site will count as 1 profile.

If you'd like to add a keyword monitoring service to Sendible, each monitor you set up will count as 1 profile.

If you'd like to monitor Facebook Ad comments, this will count as 1 profile.
We're here to support you
As a bootstrapped company, we don't answer to our investors. Our number one goal is to always be accountable, helpful, and beneficial to our customers.
We hope that this shift to social profiles will make Sendible more accessible to our audience base, plus provide more value and savings in time and resources for every dollar spent on Sendible. 🤑
If you have any other questions, please check out our FAQ guide that provides a more detailed overview of the changes that you can expect.