With our latest release, you can spot disconnection issues early and reconnect accounts before they have a chance to impact your scheduled posts and reporting data.
With all the hard work you put into planning campaigns, carefully crafting content, and delivering results, the last thing you want to worry about is any disruption to your posts being sent out on time - especially when it comes to Facebook and Instagram.
While we can't prevent previously granted access from being removed, we can make sure that you can easily see which services need to be reconnected at all times with our newly improved reconnection alerts.
This update is especially helpful for agencies who are supporting multiple clients and need quick visibility into which services are in need of reconnections. By being able to take action fast, you can be confident in your posts being published right on schedule and your analytics running smoothly.
1. New reconnect services alert
The next time that you visit your My Services page, you'll see a flag next to any of the Services set up under your user account that need to be reconnected.

Once you click on the alert, you'll be able to start the reconnection process and get your service back up and running.
2. Filter reconnected services
We also added in a new feature that lets you filter services that have been disconnected so you can immediately take action.

Especially for those with plenty of services, this new release removes the risk that you might overlook a service in need of reconnection.
3. New resources on adding and reconnecting Instagram Business Accounts and Facebook Pages
We recently updated our help articles around adding and reconnecting Instagram Business Accounts and Facebook Pages. We highly recommend that you review these tutorials due to extensive changes on the part of Facebook.
With the new setup, there is a strong possibility that you might accidentally remove necessary permissions to previously added services by changing which accounts and pages Sendible has access to when you're directed to Facebook.
To minimise the likelihood of reconnection issues, please follow the outlined steps carefully and always grant access to all pages and accounts every time you add or reconnect an Instagram Business Account or Facebook Page service as shown in the image below.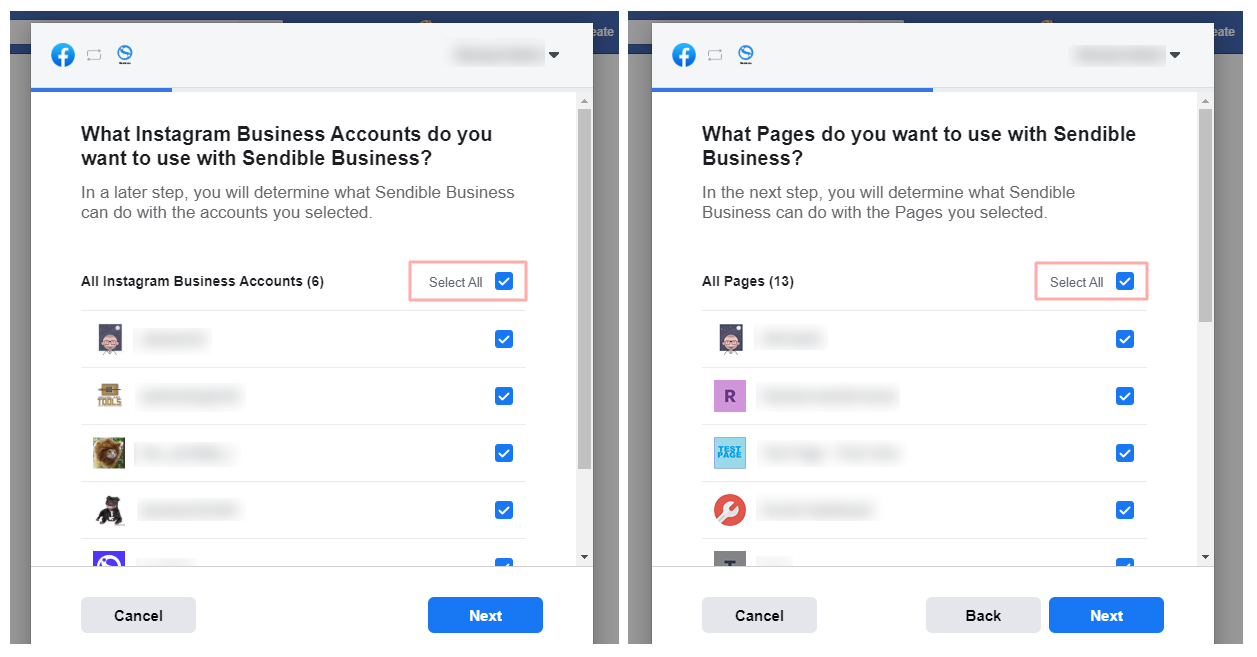 Guides and resource articles:
4. Improved accuracy with reconnection prompts
To make sure you're only asked to reconnect when necessary, we invested in making our detection of disconnected services as accurate as possible.
Please note the following:
1. Currently, these updates have only been made available for the following services:
Facebook Page
Facebook Group
Facebook Ads (currently only flags the service itself and not the associated page)
Facebook Page Cover Photo
Instagram Business
Twitter
LinkedIn
LinkedIn Company
Google My Business
YouTube
2. You will also only see the 'Reconnect' button displayed for Services under 'My Services', not 'Shared with me'.
3. Finally, since social sites apply limits to the amount of times we can check whether a service needs to be reconnected, there may be delays between when access to that Page or Account has been removed and when you are advised that reconnection is needed. This should be less than 45 minutes in the majority of cases but may take up to 24 hours with some platforms such as with LinkedIn.
Any questions or feedback?
We hope that these updates allow you to more easily manage service reconnections so that you can stay focused on telling your brand's story!
If you have any feedback on further improvements you'd like to see, we'd love to hear from you so let us know by adding your request to our Feedback Portal.
Thank you for choosing us and we will keep working hard behind the scenes to support you.