We consulted our Feedback Portal, noted your comments, and can announce that we have released yet another requested feature!
We know how important it is for our users to increase their brand's presence and engagement across all their social channels. We get asked how to do this everyday! 🤔
Instagram is the most popular social platform for allowing you to tell visually compelling brand stories through images and videos, enabling you to show off your brand's offering in the most practical (or non-practical) way you wish. 💎
Clearly, this is a much loved platform by you, our users, as we are always receiving feedback on how you want to see the Sendible Instagram features improved.
We're excited to announce that one of the most requested features is finally live - Instagram location tagging! 📍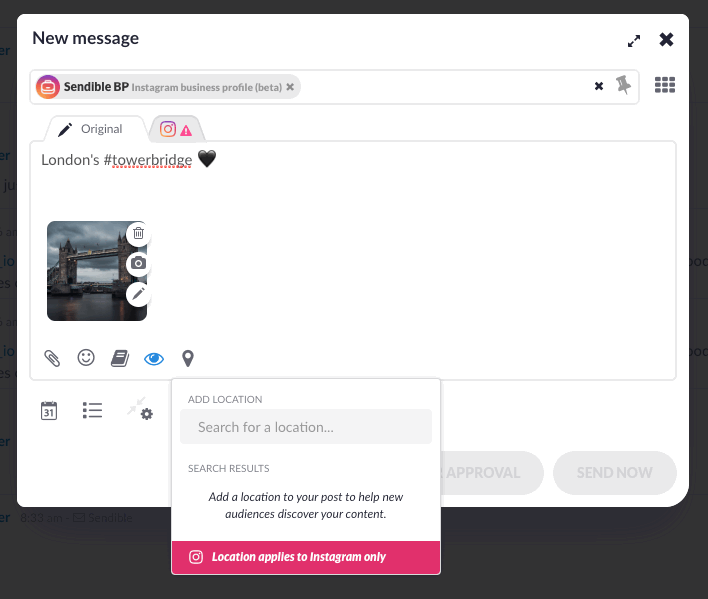 What are the benefits of location tagging? 💪
When adding a location to an Instagram post, it essentially allows you to check-in to that place. Instead of turning to Google, your audience can then use this information to do a search on Instagram and see where the mentioned location is on a map. 🗺
If you are promoting your own product it pays to tag your own business, as your followers can then see exactly where you are located from their search location.
By tagging a location, you also increase the potential reach and impressions of your own feed posts in Instagram. If tagging a popular location in your posts, when Instagram users who don't follow you search for the tagged location, there's a higher chance your posts will appear in their feeds. The more reach you get, the higher your chance of increased engagement. 📈
If you still need help adding an IG Geolocation tag to your posts, you can read more on our Support Portal here 👉 I need help.