Update: Pinterest is currently not available on Sendible.
After working closely with Pinterest, we were informed that they no longer consider themselves a social network and do not wish for their platform to be a place for marketers and publishers to distribute their content.
Instead, they want their platform to deliver a rich, personal experience for their users, enabling them to easily curate and source useful content related to their interests. You can read more about their mission here.
We are now working closely with Pinterest to improve the Sendible experience so that it more closely resembles the experience you would find on Pinterest.
We are excited to announce the full release of Sendible's new Pinterest service. This new feature has been added alongside our other social networks integrations in Sendible's all-in-one social media management dashboard. This feature update enables you to post/schedule pins to specific boards and retrieve detailed analytics to your reporting dashboard.
Adding the Service:

Head over to:
Add/ Edit Services > Social > Pinterest > Add
You will need two bits of information:
- The board URL that you would like to post to. (You will have to own it or have posting permissions to it)
http://www.pinterest.com/myusername/myboardname
- Your Pinterest login details.
Posting/Scheduling:
You've got options:
1) Attach as a link Preview
2) Upload a Photo with a link
3) Attach a YouTube or Vimeo Video
Option 1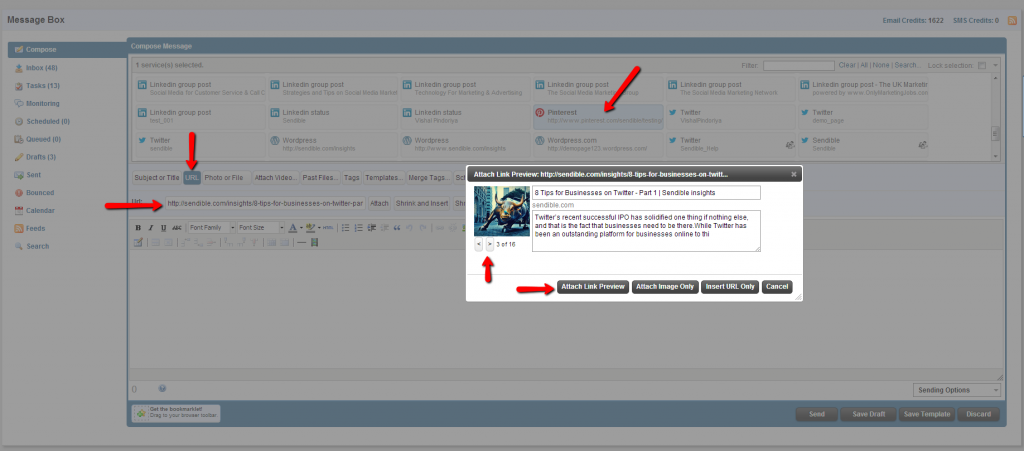 - Select your Service from the compose message box
- Select URL > Input your URL in the space provided.
- Select attach and then select your image with the arrows.
- Select Attach Link Preview.
Option 2


- Select Your Pinterest Board from your compose message box.
- Click Photo or File and browse for an image on your computer.
- Click on the Link icon to attach a link to the image. Click Attach Link Preview.
Option 3


- To post a video, either with YouTube or Vimeo - Click 'URL' and then insert the share URL for the video > Click Attach link Preview.
Note: if you have YouTube added as a service already on your account you can access your channel videos by clicking on 'attach video'.
Viewing analytics and creating reports:

Head over to:
My Reports > Report builder > Add Modules > Channels > Pinterest > Setup

There you can add modules relating to:
- The number of boards in this Pinterest account.
- The number of people following this Pinterest account.
- The number of people being followed by this Pinterest account.
- The number of likes made by this Pinterest account.
- The number of pins made by this Pinterest account.