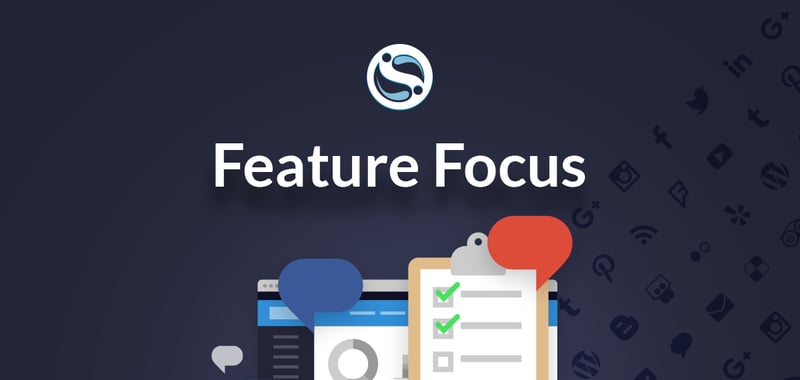 We're excited to announce the release of our new email template builder, bringing even more power to Sendible's suite of social CRM tools. Best of all, you don't even need to know how to write HTML!
Sendible's All-On-One Platform build further bridges between social media, customer relationship management and email marketing. You can scout social media for potential or existing customers and save a comprehensive profile within the Sendible CRM database. These contacts can be segmented into a mailing list and targeted with personalized emails and SMS campaigns via the platform.
What's new?
Pick from 6 pre-built layouts to create gorgeous emails using our intuitive drag & drop interface.
Publish email templates into client's content libraries so they can easily draft their own campaigns.
Give clients control to create their own email templates without any HTML coding experience required.
Also included in the latest update to Sendible:

Let's get started building a custom email template:
Click Manage > Content > Select a library > Add Content > ['Drag & Drop'] Select.
Note: If you don't have any libraries (which are essentially folders that you can share) click 'New Library'.
Select a layout to get started - Choose one of our layouts from the area on the right to start building your email template.
Select an element within the template to edit, or add a new one by dragging one of the currently three elements onto the template.

Text: If you drag the text element on your template – on the right-hand side you'll see a text editor enabling you to customize the formatting.
Picture: If you drag an image box on your template – on the right-hand side you'll see the image editor. You can either type in the URL of the image or click on 'Select Image' on the template to select an image from your media library. You can also customize the look of the image and whether the images links to if clicked.
Button: If you drag the button box on your template- on the right hand you'll see the button editor. You can customize the look of the button as well as where click leads to.
There are more template elements in development for you to customize the email further. What would you like to see?

If you click on the design tab you can customize the look of the template as a whole. This included Text color, Link color, Font size, Line height, Background color, Container color, Font family and Text alignment.
At any point, you can see a Preview of the email, send a test ' Test Email'.
Once you're happy, click 'GENERATE' - Give Your template a title and click 'Add'.
If you wondering how to access this content when you or your client want to use it.
When in Compose Box select a 'mailing list' and click on the 'book' icon.
Click 'Content' and 'Filter' by library.
Click 'Insert' on your chosen template.
Select a time for scheduling or send straight away.