We wanted to let everyone know that LinkedIn has recently updated their policies in regards to 3rd party applications like Sendible. This change means that users will need to reconnect their LinkedIn services every 60 days in order to keep the connection to LinkedIn active so that your messages can be posted to LinkedIn successfully, your LinkedIn monitoring services are kept active and we can keep gathering data from LinkedIn for your reports.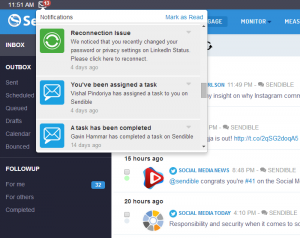 We appreciate that this is not ideal however we understand that LinkedIn had their user's security in mind when applying this change. To make managing this as easy for our users as possible, we will already be notifying you via email if a message has bounced for this reason and when Sendible 2.0 launches shortly we will also be adding notifications before a LinkedIn Service is due to be reconnected so that you can make sure they're kept up to date.
To update a LinkedIn service:
Go to 'Add/Edit Services'.
Click on 'My Services'.
Locate the LinkedIn service that needs to be updated and then select the 'Edit' button opposite.
Select the reconnect option.
Follow the steps to re-link the account.
Click "Update Account" so the new settings will be saved.