It's time to make your agency stand out
How can your digital agency stand out in an increasingly overcrowded market?
Well, the massive growth in social media provides the potential for a substantial new revenue stream. It provides you with up-selling opportunities with your existing clients, and also helps with customer retention and attracting new clients.
Adding social media management to your portfolio sounds great - but how do you simplify this time-consuming and resource heavy service?
An easy option it to integrate a social media management tool, but you risk your clients going direct to the supplier and cutting you and your costs out of the loop?
What you need is a sophisticated social media management tool with your own branding on it - a white label solution!
Impress your clients with a white label solution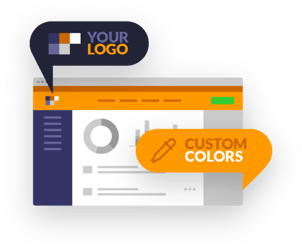 The Sendible white label solution allows you to present your agency as an established player within the social media management industry. It looks like it's your own software, because we customize everything to your branding, from the user interface and web domain to the system-generated email notifications.
Seamless client interaction
We give you a control panel where you can administer your site. Users can log in to your white label site themselves and view reports, send social media posts, track mentions and more.
Our intuitive user interface allows you to manage a wide range of clients via a single dashboard. And we help you manage all the main social media networks. Restrict permissions, build hierarchies and workflows, enable send for approval and the ability to assign tasks to team members and clients. Have full control over your team and clients on one platform.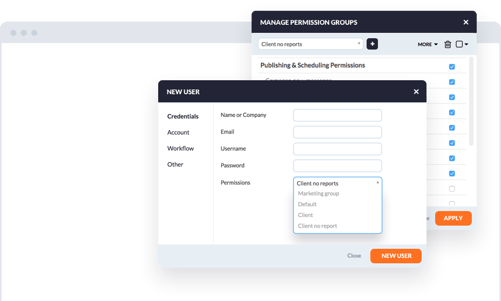 Secure social media login sharing
Sometimes it's a challenge to get your clients to hand over their social media profile login details. Our 'Client Connect' feature that enables agencies to easily add clients' social media accounts without the need to access client login details directly.
Unique social media automation
Our social media automation apps will give you the edge over your competitors:
Instagram Auto like & follow
Facebook comment moderator
Design and creating content
Are your clients struggling for time to design eye-catching content? The Sendible White Label has a full design suite integrated, with pre-designed templates for your favorite social networks which you can personalize. You can even schedule your Facebook cover photos to change for your clients, so all the time-consuming work has been done for you. We also offer our content creation service that allows you to order high-quality blogs for your clients.
Additional revenue through re-selling
Not only can you take advantage of these features when managing your clients, you can even resell your own re-branded version of Sendible to your clients. Your brand identity is maintained without sacrificing any functionality