Do you really know what purpose your social media sites are going to have? Chances are that you don't. Like many thousands of other businesses you've just created an account and hoped for the best that it would somehow work for you.
However, sites like Twitter can be used in a multitude of different ways from gathering business intelligence to customer service and from networking to event promotion. Similarly Facebook can be used for lead generation, brand building, customer engagement or customer feedback. Even LinkedIn can be used for a variety of different reasons.
The important thing is to recognise what exactly these channels are going to be used for and plan your content creation and engagement accordingly. Of course, smaller organisations may use these channels for multiple purposes but there still needs to be some form of strategy behind the thinking or they simply won't work effectively for you.
Check out www.twitter.com/delta and www.twitter.com/deltaAssist - one is for general awareness and one is for customer service. Note, this is the same company but they are using Twitter for two totally separate reasons.
Destination Inspiration // St. Lucia - Your ticket to paradise - Read more on Taking Off http://t.co/J69pDP2RIU
— Delta (@Delta) October 14, 2013
@walliemorris My apologies for the hold time. Please follow & DM your confirmation number. I will be happy to check flight options... 1/2
— Delta Assist (@DeltaAssist) June 29, 2013
If you are embarking on any form of social media strategy, it is vital that you have some form of plan which is closely tied to your overall business objectives. As with all other marketing tools, you should decide which of the social media channels is most likely to help you reach these goals.
Next step is to do some planning. What are you going to post, when are you going to post, who will be administering the site for you, are you prepared to take brickbats, have you got enough content and do you have enough people in your business to help come up with ideas for social.
Once the planning has been done, you need to learn to listen to what is going on around you on the social channels. What are people saying, what are your customers saying, what are the latest trends, what is the news from your industry?
All these will help you to decide on both the content you post and how you target your marketing. So the logical next step is to analyse what is happening online, speak to your customers, review the analytics from your website and decide how your organisation is going to join in the conversation.
The final stage is engaging with your audience. This isn't a one-way monologue but a proper dialogue with your customers, fans, stakeholders, associates or even colleagues. And this conversation may well take place outside of office hours!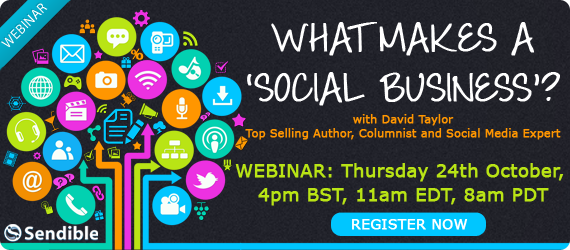 Join Sendible and top selling author, columnist and social media expert David Taylor as we discuss what exactly makes a 'social business'. Register now for a webinar filled with useful tips and tactics designed to help you transform the way your business operates.