Sendible is a rising leader in social media management software. It has been rated as one of the top Social Media Management platforms on G2 Crowd, which uses crowd-based research to reflect current industry trends. Sendible has earned the status of a High Performer based on receiving a high customer satisfaction score and a low scale score.
- 94% of users rated it 4 or 5 stars
- 88% of customers would recommend it to peers
- 88% believe Sendible is headed in the right direction
"These rankings are a strong validation of the high quality service Sendible provides for its users" said Gavin Hammar, CEO and Founder of Sendible. "G2 Crowd uses customer reviews as the basis for all of its rankings, we were excited to share this user feedback with our development team. This motivates us to continue to build and enhance the user experience and features of the platform. Sendible is undergoing a major product upgrade this spring in which we've utilized feedback and feature requests received over the years to enhance the user interface and the functionality of the platform."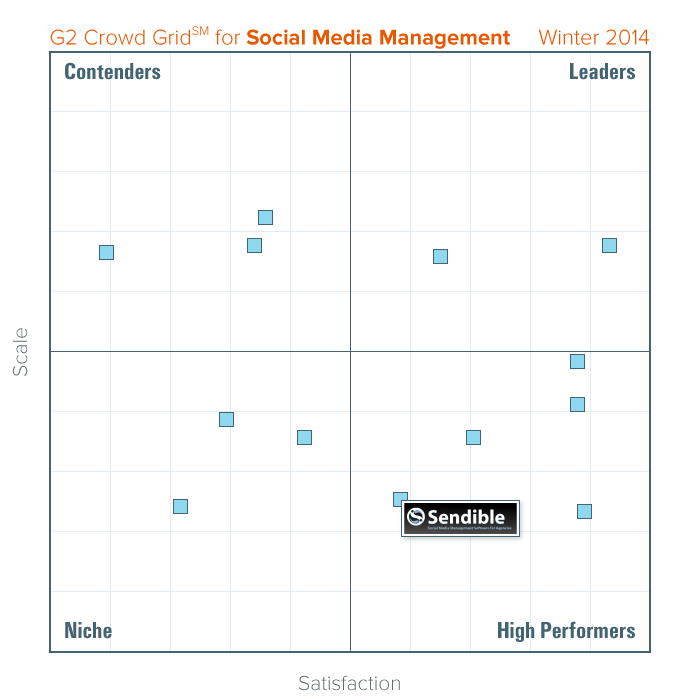 G2 Crowd rates products and vendors based on ratings and reviews gathered from its user community, as well as data aggregated from online sources and social networks. G2 Crowd's ranking system weighs overall customer satisfaction and NPS score, customer satisfaction, popularity and statistical significance.
"I love the fact that I can rest easy knowing all of my important posts are scheduled" said Desiree Tatro, a Sendible user who rated the platform on G2 Crowd's Social Media Management Software Report. "It makes everything more convenient. Most of all, it's simple to use that you can't do it wrong!"
Sendible is a powerful and robust platform designed to meet the needs of businesses wishing to effectively manage their social media activities. The solution's breadth of capabilities include a large number of integrations with the latest social networks, in-depth reporting and analytics, a white label solution and a unified social inbox gathering all incoming social messages in one stream. In addition, the solution's workflow and approval process, extensive sentiment monitoring analysis and mass distribution of marketing content across multiple social channels.
About Sendible
Sendible is headquartered in London, England and provides a host of Social Media management tools in its all-in-one comprehensive dashboard. Sendible's dashboard allows users to quickly and easily compose and share content, monitor their brand, engage with customers and reach their audience via Social Media, Email and SMS. Clients range from BBC Worldwide, Amazon and Zynga to Hollywood celebrity, Ashton Kutcher. Sendible is a robust platform that caters for some of the world's largest corporations, right down to the individual wishing to manage their online activity. The dashboard is recognized for its extensive integrations with a multitude of social networking sites coupled with powerful technology and automation features that have real marketing effectiveness. Learn more at http://sendible.com