Now Sendible and TabSite users can easily promote Facebook tabs across multiple social networks!
Since the launch of Timeline by Facebook, posting, post visibility, and engagement have taken on new urgency and much higher priority. Easily getting posts that link to custom tabs on the Facebook Timeline is a priority to bring attention and draw fans to the promotion tab.
We have collaborated with the folks at TabSite to offer social media post sheduling that directs users to their Facebook custom tabs created in TabSite, making it easy to post to your Facebook Fan Page and multiple other social networks.
With Sendible's integration in all TabSite Engagement Apps, Facebook Marketers are able to boost traffic to their Facebook Page custom tabs simply by scheduling posts during setup and management of the tab promotion.
The integration of Sendible into TabSite offers ability to post to all Sendible account social platforms such as:
Facebook Pages
Twitter
LinkedIn
Tumblr
WordPress
Bebo
TypePad
Facebook Profiles
and more!
OVERVIEW:
Below is a view of the TabSite Manager setup area for an Engagement App.
Each Engagement App (Contests, Group Deals, Sweepstakes, Instagram, Pinterest, Pin Deal, etc) has a "Promotional Tools" area. There is now a Sendible button in this area.
Look for the Sendible icon: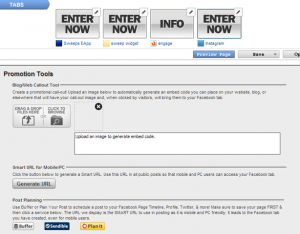 Upon clicking the button, a user is prompted to login to Sendible. Upon logging in, this familiar Sendible interface for creating a message is displayed. The message is pre-populated with the Smart, mobile friendly URL for the tab on Facebook.
Simply select where the Message should post to and Send, Save as a Draft, or Schedule for later!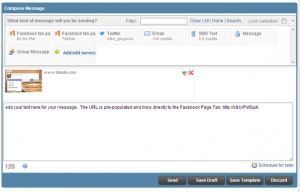 The Sendible integration into TabSite empowers users of both services the ability to create and deploy messages that drive traffic to the Facebook Page promotional tab, helping Page Admins to efficiently setup strategic marketing messages across multiple social platforms with ease.