Update: Pinterest is currently not available on Sendible.
After working closely with Pinterest, we were informed that they no longer consider themselves a social network and do not wish for their platform to be a place for marketers and publishers to distribute their content.
Instead, they want their platform to deliver a rich, personal experience for their users, enabling them to easily curate and source useful content related to their interests. You can read more about their mission here.
We are now working closely with Pinterest to improve the Sendible experience so that it more closely resembles the experience you would find on Pinterest.
Fresh off our recent G2Crowd ranking as one of the top 2 Best Social Media Management Software for Small Businesses, we are excited to announce that we have now partnered with Pinterest to integrate their official API into Sendible. This new integration means we can support a significantly more robust Pinterest Scheduler and Pinterest analytics platform.
What does this mean for you? Basically, Sendible's Pinterest Scheduler allows you to easily connect your Pinterest account to your social media dashboard and select one or more boards you want to publish to. Then, simply schedule your pins, share links and post photos directly to one or more Pinterest board simultaneously. The more you use Sendible to post your Pins to Pinterest, the more it learns and determines the optimal times to post to your boards. In other words, the more you schedule to Pinterest using your Sendible account, the more valuable Pinterest analytics we can give you!
For those of you still wondering about Pinterest marketing and why your business needs to be on Pinterest, or if your business needs Pinterest, check out this article we published recently, Why Pinterest Is Good For Your Business.
How do I schedule Pins to Pinterest using Sendible's Pinterest Scheduler?
If you haven't already done so, you'll need to start by signing up for a free 30-day trial of Sendible. Once you've registered, you're all set and can start using your Sendible account to manage your Pinterest marketing efforts.
Before you can start scheduling Pins to Pinterest, you need to first connect your Pinterest account to Sendible.
1. From within +Services, find the Pinterest icon and click Add.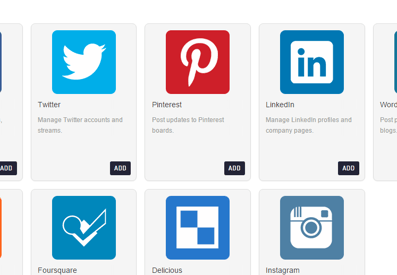 2. You'll be prompted to grant Sendible the necessary permissions to be able to create Pins on your behalf. Click OK.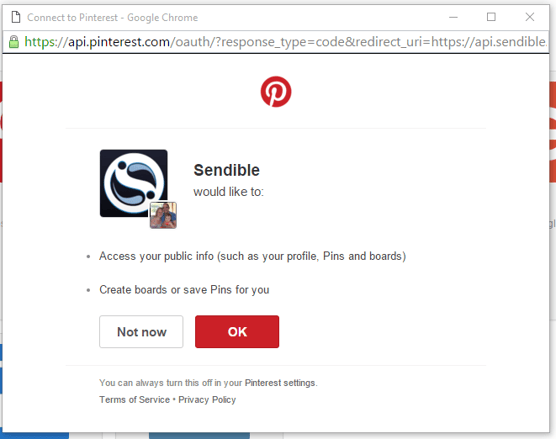 3. Now, select the board that you would like to to schedule pins to from the list and click Save Settings.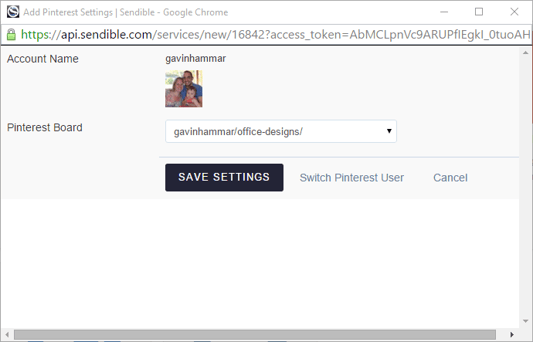 3. You can repeat this process for any other boards you wish to setup. Once you've completed this process, you're ready to start scheduling Pins to Pinterest.
4. To schedule a post, simply click the Compose button to open the Compose box and select one or more of the Pinterest boards you've just connected to Sendible. Use the calendar to pick a date to schedule your posts.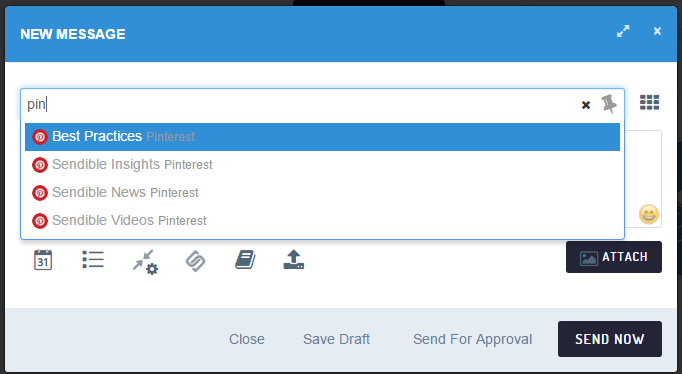 How do I monitor and report on Pinterest Analytics using Sendible?
Once you've started publishing a few pins to your Pinterest account(s), you'll want to track performance to see how this has impacted on your audience growth and engagement.
To do this, you'll need to use Sendible's report builder to drag and drop the Pinterest modules you'd like to review:
1. Start by going to the Measure tab and selecting Report Builder.
2. If this is your first time creating a report, click Create your first report and select a layout for your report.
3. After configuring your report, you'll be able to add your Pinterest modules. Simply select the Pinterest account and click Setup to bring up the list of modules. The available modules can be seen below: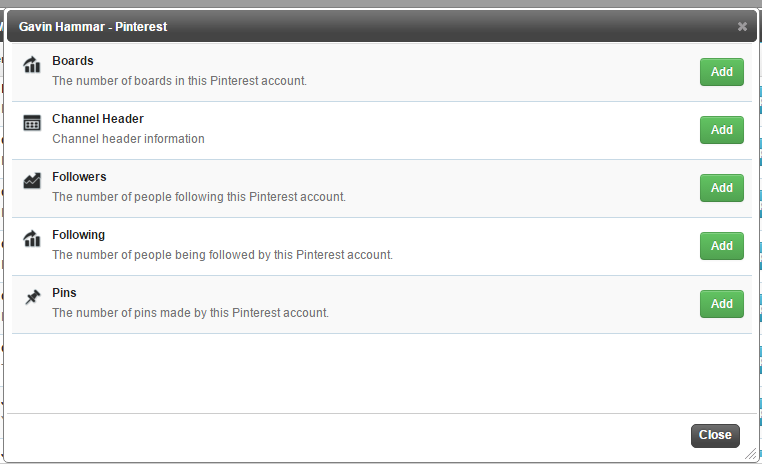 4. As you add modules, you'll see your report start to take shape.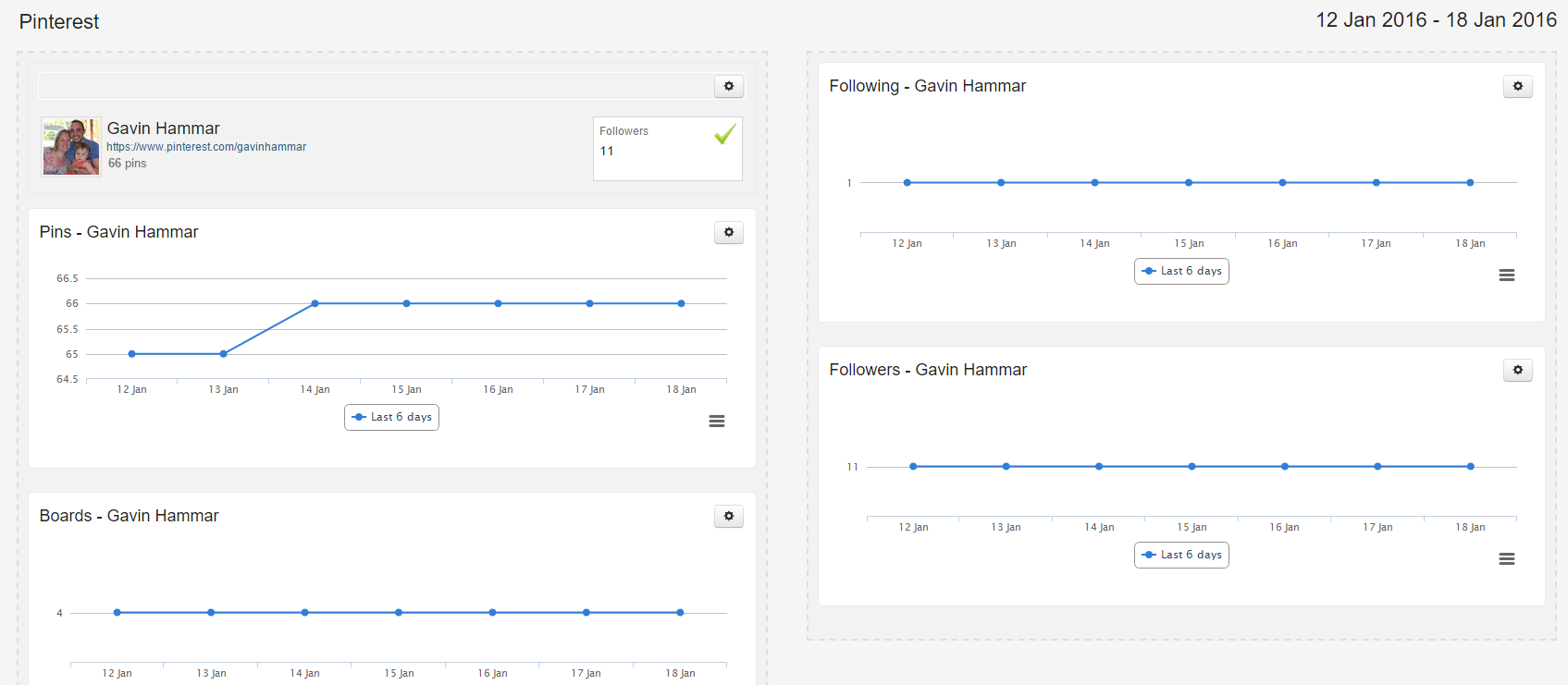 We hope you find these new improvements useful and we'd love to hear your thoughts on these new features in the comments. We have a really exciting roadmap planned for #2016 and we're looking forward to sharing more with you in the coming weeks.
Remember, the more you schedule your pins through Sendible, the more in-depth your Pinterest analytics will be. So what can we say other than, happy Pinterest marketing!