Google Analytics is a service offered by Google that generates detailed statistics about a website's traffic and traffic sources and measures conversions and sales. The product is aimed at marketers as opposed to webmasters and technologists from which the industry of web analytics originally grew.
If you are unsure on how to install Google Analytics on your website take a look at this great blog post.
Once your analytics account is up and running there are some simple steps to pull this data into Sendible's Social Media management dashboard and built custom branded reports alongside your existing social media metrics.
Head over to My Reports > Quick reports > Select from the drop down Google Analytics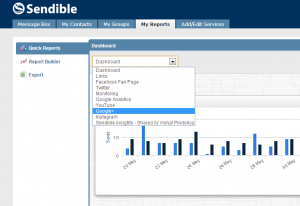 Authorize access to the account and select which 'profile' you would like to use:
You can also use this Analytics in your branded reports:
My Reports> Report builder> Add modules > Google Analytics ( you may need to authorize access)